Here's How to Create 5 Mother's Day Photo Gifts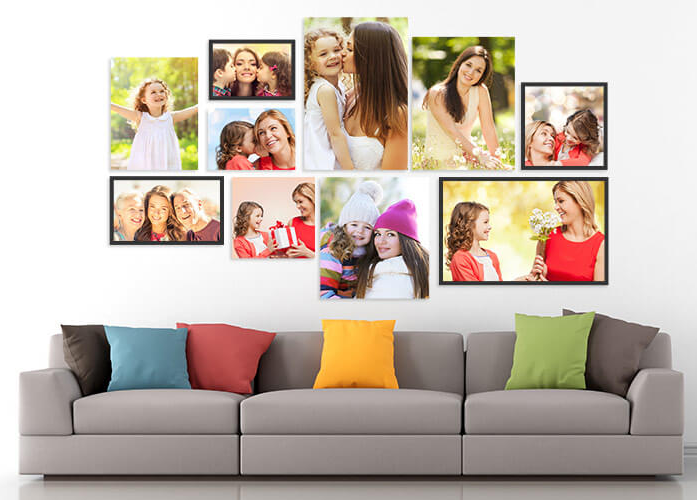 Finding a perfect lovable gift for your mum during such a pandemic lockdown might seem tough. Going out to surf gift shops nearby or heading to the mall is a big no, no in this COVID-19 crisis. 
Instead, Canvas Champ brings you five custom photo gifts that you can make for your mom this Mother's Day with favourite photos of her! All you need is to have a stable internet connection, some amazing concepts on how to be decorative and start designing these photo products on our website's design tool:
Canvas prints
There is something about canvas prints that makes it so popular over many centuries. It is because they make any image look artistic and canvas tends to last for years. Well, then print a picture of your mother on it and tell her that you portray her nothing less than a Queen of your life!
Select products: Choose from - single, wall display, photo collage, hexagon prints, etc.
Upload photo: Import your desired images on the design tool from computer, device, Facebook or even Instagram.
Select size: A custom size from the range of 8" x 8" to 54" x 54" to make an ideal canvas print for Mother's Day.
Wrap & border: Select the style of canvas prints you want, and also, get to choose various border options.
Hardware & Finish: More than five hardware to choose from along with various photo filters to make your mother's portrait more stunning.
Other Options: Here to you can choose for lamination, any major or minor retouching and also ask for a design proof to get it approved from you before we start production of your design.
Add to cart: Once you go through all the above options, add to cart, pay securely online and wait for the canvas prints to get delivered to you.
Framed photo prints in NZ
Framing memories has its own experience of going down the memory lane. You can get the photos of your mom's youth printed on framed photo prints to show her that she is still just as beautiful to you as fierce she was in her youth.
Frames: Decide on a frame for the photo from 12 options available on the tool.
Upload: Upload your chosen image of your mother's day gift.
Select size: You can choose from popular sizes or have a custom size within the range of 8" x 8" to 40" x 40" for framed photo prints in Canada.
Finish Options: Get to choose paper-type, lamination and mat options in this section.
Add text: Get to add a caption, message, date, monogram or anything in this section before adding it to cart.
Acrylic photo prints
Through photos on acrylic glass, you can make a standout statement by framing her best moment according to you and dedicate that acrylic photo print to her for Mother's Day. You can design acrylic photo prints with the same steps as mentioned above in canvas prints!
Metal photo prints
Want to surprise your home with some of her photos that she was always embarrassed about but you were proud of? Get them on metal photo prints! Through these prints, you can make any photo come alive from its colours as metal photo prints are the most illuminating and vibrant medium of them all. You can create these prints through the same steps of canvas prints in our design tool on the website. 
Personalized photo mugs
If the above four items seem too much of a show-off to you, then you can opt for something simple yet very impactful - photo mugs. You can print her photos, family photos or even a quote that she has been loving and preaching everyone her whole life. Make her feel that she is missed and heard all the time through personalized photo mugs.
Select mug type: We provide two kinds of photo mugs - a standard mug where you can print your photos with vibrant visibility, and a magic mug wherein your photos get revealed on the mug when a hot liquid is poured inside it. Choose one of them for designing your Mother's Day gift.
Upload: Upload your chosen photos on the design tool as you can print up to four pictures on a photo mug.
Select Colour: For personalized photo mugs, you can select an overall colour for your mug to make your photographs stand out beautifully.
Layouts: Check out various photo arrangements if you have more than one photo to print on a mug.
Text: Add a custom message, quotes, or even names and dates to give a pleasant appeal to the photo mugs.
Clipart: You can even try out clip art from our online library of symbols to go with your photos. 
Canvas Champ can help you design these five popular custom photo gifts and many more! Simply visit our website and find the products that will most resonate with your ideas to gift a touching gift to your mother this Mother's Day.