Your Friend Will Get:
If you've loved the CanvasChamp experience, we'd love to work with your friends. When you refer your friend, they will get 85% off + Free Standard Shipping on their first order. Let's help them get started to receive this great offer.
You Will Get:
In return, when you share your purchase with your friend, you will get rewarded with an absolutely free 8"x8" size canvas print when your referral places their first order.
In addition, you will receive N$5.00 for each order placed by your referral.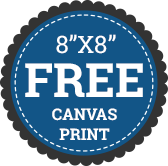 Start Referring & Earning
Not a member? Sign up here!