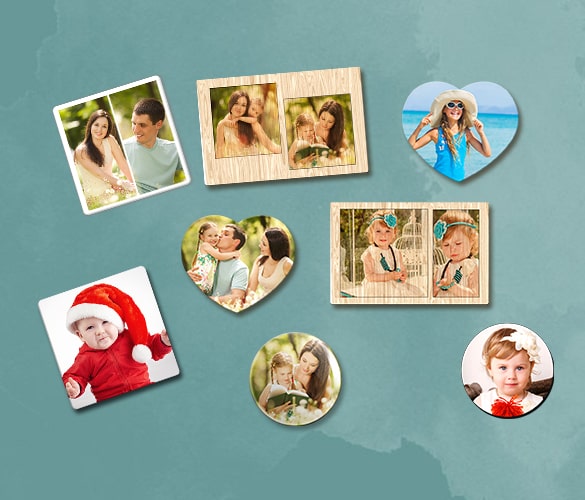 Display a new collection of magnets as often as you like.
Showcase your travel, wedding memories, baby's special moments, or year in review. Watch as brightly colored pictures pop on acrylic, or choose the firm foundation of metal. Our custom fridge magnets are committed to bringing coolness.
You see, magnets aren't restricted to just kitchen. You can stick them on the fridge, school lockers, file cabinets, or any metal surface. You can use them in the office, garage, workshop, or anywhere you have a metal surface that needs shining up. How about you sort your work plans by priority? Hang up those step-by-step directions, or grasp that agenda somewhere where it won't get mixed in with all your other paperwork!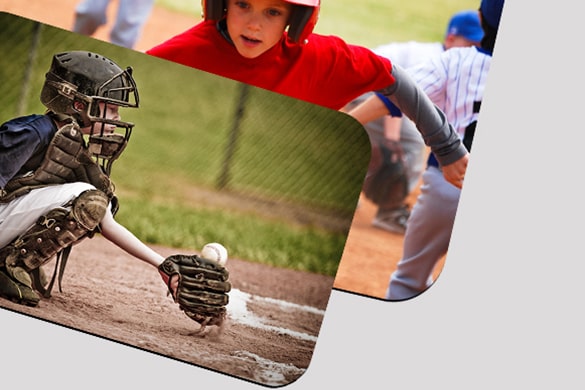 Custom photo magnets are created to last
Strong as hell, photo magnets are a cool gift. Pick your favourite photo, add a cool quote or message on it and get that magnet to keep those incredible memories stuck forever. Our customised photo magnets won't let you down. With a powerful magnet, these photo magnets are sturdy as any paperweight. Choose from Metal-1MM, Acylic-2MM & Wood-4MM, high-quality clear acrylic, or tin-plated steel. The UV-cured ink is fade-resistant. A unique polyester coating makes them even further capable of standing the test of time.
ENJOY LIFE. EAT WELL. LAUGH OFTEN. LOVE MUCH. STICK AROUND LONGER.
Photo magnets are a colourful display with an inspiring message. It is also a great way to cherish your favourite moments.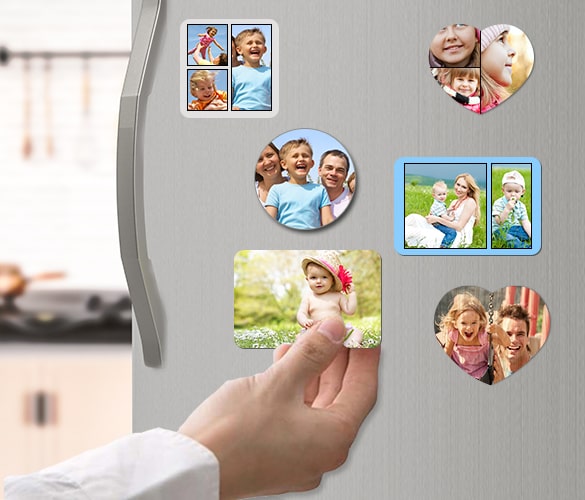 You can make photo magnets online nowadays for any occasion. There are endless ideas to turn your photos into magnets if given the right options in materials, templates and shapes too. If you do find it anywhere then us then good luck with its quality! Because with us, you won't be able to resist designing just one photo magnet!
DISPLAY:
Display your boring fridge doors as your very own art gallery. Turn those existing fridge artwork into custom photo collages with us. Create photo magnets of that artwork and arrange them as a photo collage!
ORGANIZE:
Use custom magnets to get your message well communicated to people. Magnets can't be just photos only by the way. You can upload a business card or company's logo or an ad promotion to a custom piece that does your communication for you!
PROMOTE:
Use custom magnets to get your message noticed to the masses. Custom photo magnets aren't just for photos only. You can upload your business logo, card, or ad promotion to a custom piece that does your advertising for you!
SHARE:
It's time to show your creativity to others too. Make magnets from photos of your dear ones in heart shapes! A marvellous way to share your favourite pictures to people to have compact wall space for decoration.
IMAGINE:
Stretch your artistic skills by turning a number of your photos to magnets and then present them as an appealing message! Or transform your travel photos into photo magnets and save the memories far longer than having finished unpacking.
Work with our easy-to-use photo magnet tool to start giving a piece of your heart to your special ones!
NOW GET OPTION TO CHOOSE FROM THREE TYPE OF MATERIALS TO DESIGN YOUR PHOTO MAGNET!
Just add a photo or an artwork to your photo magnet.
Acrylic Photo Magnets

Wooden Photo Magnets

Metal Photo Magnets
PHOTO MAGNETS AVAILABLE IN FOUR AMAZING SHAPES!
Add round, heart or rectangle shape to a before original square shape to make better options for your photo magnets.
Square Magnets

Heart Magnets

Round Magnets

Rectangle Magnets
OUR PHOTO MAGNET DESIGN TOOL WILL HELP YOU CREATE CUSTOM MAGNET WITH EASE
Select from options available in size, shape and materials-and watch your photos change into customised magnets!
MATERIAL & SIZE

Choose from three different material – metal, wood, or acrylic. Then pick a shape you prefer. Sizes that match each shape will then pop up on the screen. With more than one choice in size, you may want to define precisely which size you want.

UPLOAD IMAGES

You can upload photos from your computer's files, gallery, Facebook, or Instagram. File types that are accepted are PNG, JPG and BMP (up to 25 MB).

BACKGROUND

Click on Selected Colour to customise a preferably similar colour for the border. Or upload a photo that already has a border around the edges. It would improve your main picture on the photo magnet.

LAYOUTS

Along with a single photo custom magnet, you can make collages with two, three, or four pictures. Under each number of photos, you will find various design layouts.

ADD TEXT

Amplify your personalised photo magnet's presence with a quote or caption. Choose a font type and size, alignment and style, plus you have unlimited colour options to choose from as well.

CLIP ART

Instead of an image you don't want to upload, you may wish to choose from our options of clip art to go with a quote or personalised message. Just click on the picture you want from our clip art option.
Photo Magnets Q & A
We know you have particular questions regarding our photo magnets. You can check some questions asked often as below or contact us for any assistance.
Q:

How long will the custom printed magnets take to reach me?

A:

Once we receive a final design approval from you, we take a maximum of 3-10 business days for production and delivery. At times, it might take longer than ten days if it is holiday season due to a high volume of orders.

Q:

Can photo magnets be used outside too?

A:

You can use it wherever you like. Especially the metal photo magnets as they can stand harsh weather as well. You can stick up at the patio chairs or table or on cars. We use unique all-weather material to keep it protected. But despite it, the chances are that your printed photo might fade if put up outdoors due to the sun. Hence, we recommend to use them indoors.

Q:

How can I upload my own designs?

A:

You can choose any photo magnet of your choice and then click on the UPLOAD IMAGES button and can easily upload your designs or photos.

Q:

Why are such magnets popular mostly with the kitchen decor?

A:

Magnets were initially designed for the space industry to create letters and numbers for tracking charts. When new techniques for moulding magnets were developed, people began creating magnets for the souvenir business which soon became collector's items. With growing collections and produces of it, they became an everyday item that people use it to decorate. Back then we didn't have much use of alloy furniture except for the fridge. Hence, that's the origin of magnets being so popular with the kitchen decor.

Q:

Do photo magnets stick on any surface?

A:

No, actually not only ours but any photo printed magnets do not stick on all kinds of surface. They only stick to metallic surfaces made of iron, nickel, cobalt or steel. Such coatings are mostly found on lockers, fridge, cabinets, whiteboards and metal shelves.
Ask about Photo Magnet and get answer in email.
YOU MAY ALSO LIKE THESE PHOTO GIFTS
We offer a vast array of custom photo products that make great gifts for everyone on your list, not to mention remarkable ways to display photos and artwork in your own home. Here are just a few: