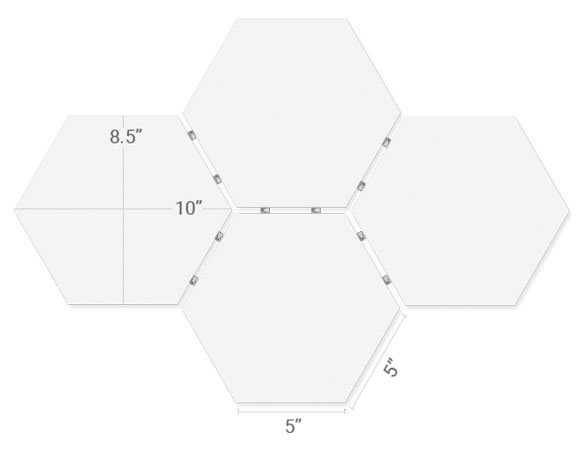 About Hexagon Canvas
Bring All Your Moments Together as a Hive of Happiness
Get to display your precious memories most innovatively and colourfully through hexagon-shaped canvases! Create a hive on your wall with up to ten hexagon canvas prints to make your decor look extravagant. You either hang them in a cluster or a single canvas to be a stand out on the wall.
Exceptional Hexagon Photo Canvas Prints
We device hexagonal canvases with the help of latest printing technology. Your photos are hand-stretched on a hexagon-shaped canvas print to show off the brightest colours of your memories! Get to have options from different wraps and borders to customise your canvas the way you wish. Impress friends and neighbours!
Hexagonal Canvases Can Fit Any Decor of Home or Office
Since these hexagon prints measure 10-inches from corner to corner and 8 3/4" from side to side, you can fit them in the tiniest space on your wall. Combine a bunch of these hexagon canvas prints to give a hive-like feeling in your living space. You'd be surprised how versatile and amazing can these prints look on your wall!
Customised Hexagonal Canvas
Form a Hive or Show it as a One-of-a-Kind!
Good Things Come in Threes
Five Golden Prints to Make a Vision Hive
Let Your Happy Time Swarm In a Honeycomb!
Easy-to-Order Hexagonal Canvas in Just a Few Steps
Step 1

Import your pictures from desktop/laptop/mobile from any location. Get to access your social media profile to upload photos directly from there.

Step 2

Move the photo to adjust the scene essential to capture on a hexagon photo canvas.

Step 3

Next step is to choose a wrap and border around the canvas.

Step 4

For additional options, we have retouching and colour finishing to personalise.

Step 5

Make a honeycomb with same or different photos by adding them to cart.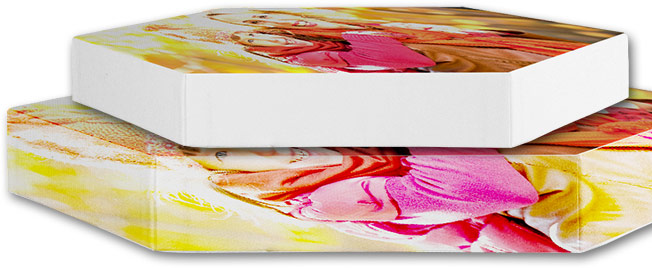 Wraps and Border Options for Unique Hexagonal Canvas
When wraps and borders are chosen in a way to suit the decor of space will make the hexagon shaped canvas prints even better.
A 1" thin gallery wrap will make a wall look like an art gallery.
To make your hexagon canvas prints unique, choose a combination of wraps and borders to make your space look more elegant with it.
Special-Filters to Make Your Photos Colourful
Make your photos look varied and sharp with our colour filters.
Place a request with us to get major or minor retouching on your photos such as redeye, scratches, sunlight exposure, faded colour, etc. We thrive on making hexagon canvas print for you like a distinctive addition to your home. We will assist you with the best of abilities to create a perfect as you desire!