Superior Quality Photo Prints
This is the ideal time to make your favourite photos memorable forever.
You might have hundreds of photo memories stored in your mobile devices or cloud storage. But some of them occupy a permanent and significant place in your life. The photos of the events like newborn babies photos, wedding ceremony photos or photos of some achievements and even the best time you spend with your pets are always unforgettable. Let them be alive with the photo prints by CanvasChamps.
Trust Us with Best Photo Printing of your photos
Choose any paper from standard or premium to get going. Ordering was never this easy!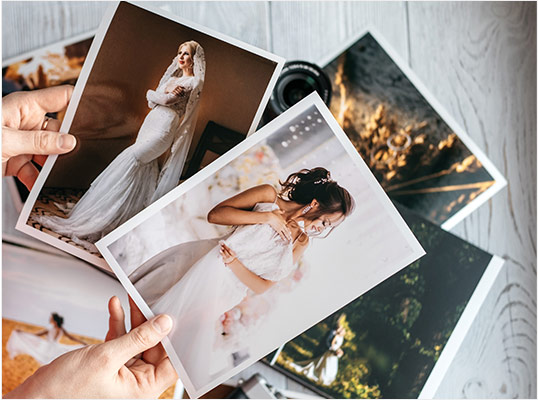 Here are some of the prime reasons to order for professional quality prints:
Create your photo memories in a portrait or landscape size from 6"x4"/4"x6" to 40"x30"/30"x40".
Photo printing on standard or premium quality photo paper.
The best photo finish options- glossy, matte, lustre, or metallic.
Decorate the photo of your choices with a border or no border the way you like.
Industry leading customer services 24X7 by experienced professionals to edit your photos from cropping to improvising to render the additional beauty to your photos.
Prompt and faster order execution process with shipping through FedEx or UPS.
Reasonable rates with certain standards of quality.
Quite longer guarantee on photo prints about 99 years.
100% customer satisfaction for quality printing or money back guarantee.
THE PAPER YOU CHOOSE DETERMINES THE QUALITY OF THE PHOTO PRINT
Select either standard or a premium photographic paper.
GET A HIGHLY CAPTIVATING FINISHING TOUCH IN FOUR WAYS
Choose either matte, glossy, lustre or a metallic finish.
Glossy Finish

It is a perfect option for snapshots to give a final touch to your photo prints.

Matte Finish

A matte finish gives a heavier coating of sheen resulting in a more profound depth of your photos.

Lustre Finish

Lustre finish is a beautiful combination of glossy and matte finishes.

Metallic Finish

When you wish to render a 3-D effect to your selected photos, you should opt for a metallic finish.
HOW TO ORDER?
Simple steps to change your digital shots to professional photo prints
STEP 1
STEP 2
STEP 3
STEP 4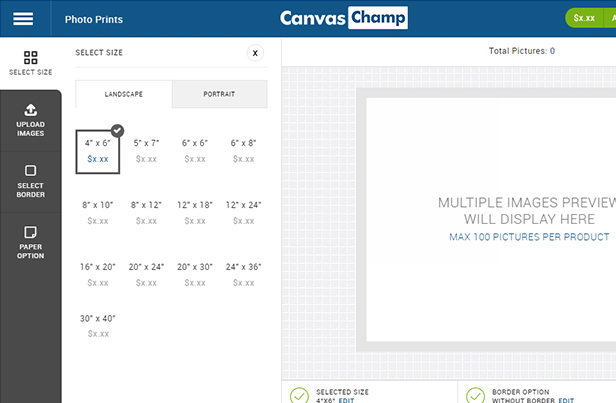 Select Size
Specify whether portrait or landscape orientation you desire.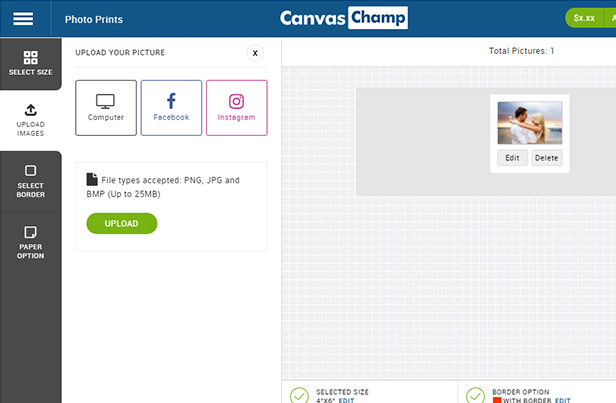 Upload image
You can easily access photos from your computer, Facebook, or Instagram. Accepted file types are PNG, JPG, and BMP (up to 25 MB).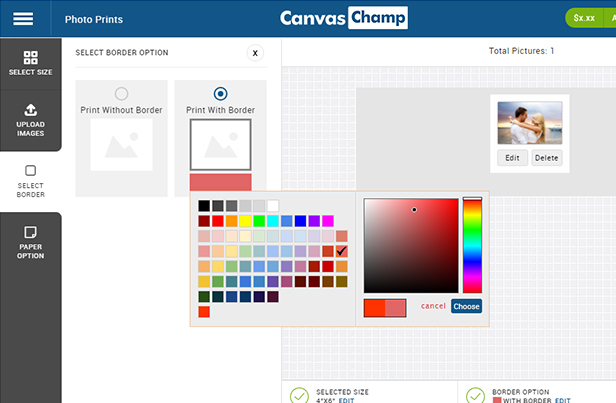 Select Border
Print your photo with or without a border.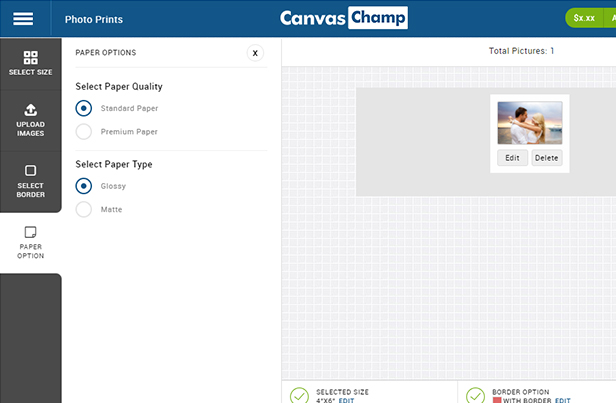 Paper Option
Choose a standard (150 GSM) or a premium (180 GSM) paper.
GET TO CHOOSE FROM MANY SIZE OPTIONS
We offer all the standard photo sizes over custom choices.
Standard Paper
Premium Paper
Glossy
Matte
Glossy
Matte
Lustre
Metallic
4" x 6"
N$0.09
N$0.09
N$0.10
N$0.10
N$0.23
N$0.35
5" x 7"
N$0.42
N$0.42
N$0.50
N$0.50
N$0.51
N$0.52
6" x 6"
N$2.18
N$2.18
N$0.99
N$0.99
N$1.10
N$1.20
6" x 8"
N$1.06
N$1.06
N$1.28
N$1.28
N$1.30
N$1.32
8" x 10"
N$0.93
N$0.93
N$1.12
N$1.12
N$1.14
N$1.17
8" x 12"
N$2.19
N$2.19
N$2.62
N$2.62
N$2.66
N$2.71
12" x 18"
N$8.50
N$8.50
N$10.20
N$10.20
N$9.83
N$9.45
12" x 24"
N$9.45
N$9.45
N$11.34
N$11.34
N$10.87
N$10.40
16" x 20"
N$12.83
N$12.83
N$15.39
N$15.39
N$15.77
N$16.15
20" x 24"
N$21.85
N$21.85
N$26.22
N$26.22
N$26.41
N$26.60
20" x 30"
N$17.47
N$17.47
N$20.96
N$20.96
N$24.26
N$27.55
24" x 36"
N$30.40
N$30.40
N$36.48
N$36.48
N$36.29
N$36.10
30" x 40"
N$41.80
N$41.80
N$50.16
N$50.16
N$51.21
N$52.25
Standard Paper
Premium Paper
Glossy
Matte
Glossy
Matte
Lustre
Metallic
6" x 4"
N$0.09
N$0.09
N$0.10
N$0.10
N$0.23
N$0.35
7" x 5"
N$0.42
N$0.42
N$0.50
N$0.50
N$0.51
N$0.52
6" x 6"
N$2.18
N$2.18
N$0.99
N$0.99
N$1.10
N$1.20
8" x 6"
N$1.06
N$1.06
N$1.28
N$1.28
N$1.30
N$1.32
10" x 8"
N$0.93
N$0.93
N$1.12
N$1.12
N$1.14
N$1.17
12" x 8"
N$2.19
N$2.19
N$2.62
N$2.62
N$2.66
N$2.71
18" x 12"
N$8.50
N$8.50
N$10.20
N$10.20
N$9.83
N$9.45
24" x 12"
N$9.45
N$9.45
N$11.34
N$11.34
N$10.87
N$10.40
20" x 16"
N$12.83
N$12.83
N$15.39
N$15.39
N$15.77
N$16.15
24" x 20"
N$21.85
N$21.85
N$26.22
N$26.22
N$26.41
N$26.60
30" x 20"
N$17.47
N$17.47
N$20.96
N$20.96
N$24.26
N$27.55
36" x 24"
N$30.40
N$30.40
N$36.48
N$36.48
N$36.29
N$36.10
40" x 30"
N$41.80
N$41.80
N$50.16
N$50.16
N$51.21
N$52.25
Benefits of authentic photo prints
Broad range of custom sizes available

Give colour vibrancy

Premium Quality Paper

100% 'Love It' guarantee
Summary of CanvasChamp Photo Prints Benefits
Having a printed photo that you can touch, display on a shelf or hang on your wall is one of the best ways you can remember and cherish special times. We make it affordable and easy to preserve the memories of those little moments that get lost with time. We provide a variety of options to give you the professional quality that your photos deserve.

Don't limit your prints to substandard sizes of 4''X6" or even 8''X10''. Think large! We offer custom sizes of up to 40''X40''. Just imagine the presence or impact your nature shots would command if made a focal point at your office or living room. Larger sizes are also perfect for portraits from wedding parties and extended family shots.

Your panoramic images with our Noritsu QSS-32 Digital All minilabs QSS-32 series can print the new better size prints of up to 305x914mm (12x36 "), which can be used for print-advertising banners, group photos, etc. Our new service will give you a huge competitive advantage, as the size of prints is twice than ordinary maximum size 305x457mm (12x18 ").

Bring your favourite shots to life with professional quality without the lowest price from us! You can choose from standard-quality photographic paper or premium quality for keepsake photos. We also offer four different finishes to give your photos the perfect final touch – matte to resist glare; glossy for bright, sharp, vibrant images; lustre gives you the best of both with a little gloss and anti-glare; and metallic for a striking, chrome-like artistic look. We offer a full range in sizes that can be printed with or without borders.

If you're to wait for a sale to finally print all those great photos you are always going through on your Smartphone or have stored away on your computer, flash drive, or cloud … the wait is over! Our every day low prices beats most sales you will see from your local drug store's photo departments. You will get professional quality from us with speedy service.

Our photo tool makes it super easy to get professional-quality prints. Just choose the size, paper quality, border option, and finish. Boom! You're done. Besides, our customer service, available on all business days, is second to none. We offer free help with all your editing if you need it. We usually turn up an order around in 24 to 48 hours with a choice of shipping options via FedEx or UPS.

What makes CanvasChamp your best source for photo printing? First of all the quality of the print brings you to us. Pick from photographic paper and finishes to give a professional look to your photos at the lowest prices you'll find in the industry. Furthermore, we are passionate about what and how we do. Our helpful customer service team is available on all the business days to help you with editing at free of charge. We will turn up your order around quickly and are proud of our record of 99.98 per cent on-time or before-time deliveries.

We offer options that make sure the finish you select for your precious photos isn't an afterthought. Of course, you can choose from the standard matte or glossy finishes, depending on the type of picture and how it will be used. But we also offer a lustre finish, which is the best of matte and glossy, giving you a beautiful, pearl-like texture with a slight gloss, deep colour saturation, and high contrast … with resistance to glare and smudges. We also offer a metallic finish for a unique 3-D artsy look with a beautiful chrome-like sheen.
Make Photo Prints
People Also Ask About Photo Prints
Is a 4" X 6" standard photo size?

Yes, 4"X6" is one of the most popular sizes for snapshots as it was mainly originated from postcards. Hence, it has been kept as a standard size ever since.

Is 4"X6" better or 5"X7"?

A 4"X6" print is the cheapest regular sized unframed prints. If you want to frame your photo, a 5"X7" might be a better choice. But you can also frame a 4"X6" photo within a 5"X7" frame.

What is the best resolution for printing photos?

The official and standard resolution for sharp and professional-looking images are 300 pixels per inch. So make sure your photos are of the same resolution to be the best for printing photos.

How do I print a photo?

It's swift and straightforward with our photo design tool. Just click on the Photo Prints tab, go through the size and shape option and then upload your image(s). Select an excellent size and orientation. Choose the border option. Select the paper quality and the type of finish you want on it. Then add to cart and wait for the prints to reach your doorstep.

How do I print a large picture?

You need to follow the same procedure as above to create the photo prints, regardless of the size of it. Just change the size according to your need, in your case, large and choose the custom size for it. See question 5 for detailed steps.

What is the difference between matte and glossy pictures?

A glossy finish creates a layer of sheen over the photo that makes the colours in the picture appear more vibrant. The polish is the same as used on a matte photo, except more of the final layer is applied in glossy pictures than on matte pictures.

The only disadvantage of the glossy finish is that it creates glare when viewed from some angles, and it is prone to fingerprint spots and other smudges. However, glossy prints can stick to the glass. A glossy finish would be a fitting choice for photos that are not going to be handled frequently and best kept in a photo album.

Matte photos don't emphasise colour as much as glossy images do. It may appear a bit grainy because of the enhanced texture of the print. With less of that shiny layer, they resist glare pretty well and also fingerprints smudges. For this reason, trained photographers lead to preferring a matte finish on their photos. A matte finish is an excellent choice for black and white images that will be framed.

What is a lustre photo finish on a picture?

A lustre finish will give you the best of two finishes- glossy and matte polishes. It emphasises deep colour saturation with high contrast and realistic-looking skin tones. The slight gloss with a particular texture resists glare and fingerprints. Most people tend to choose a lustre finish for valued souvenir photos that will be framed someday.

What is a metallic photo print?

A metallic finish seems as if it was printed on a sheet of metal. This ultrabright, high gloss finish gives your photo a stunning 3D look with strong colours and a unique chrome-like expression. It's amazingly durable and resists spots, scratches and damage from UV light. This option is suggested more for artistic images than traditional portraits. Metallic prints should be framed without glass.

Is lustre better or glossy?

It depends on what you plan to do with your photo. Both will give you vibrancy with colours in the image, but the glossy finish is more prone to glare, fingerprints, and smudges. If you have photos that you plan to put in an album; glossy would be the answer for it. But if you want to frame your picture, a glossy finish would stick to the glass so lustre print would be the perfect choice for a portrait. Check out questions 7 and 8 for more details.

What is the distinction between metallic and lustre prints?

Check out questions 8 and 9 for a better understanding.