Split canvas prints layouts for you
Fill the walls with emotions and happy memories with split canvases
Handmade Multi-panel Canvas Prints
Express your love for creativity through multi-panel split prints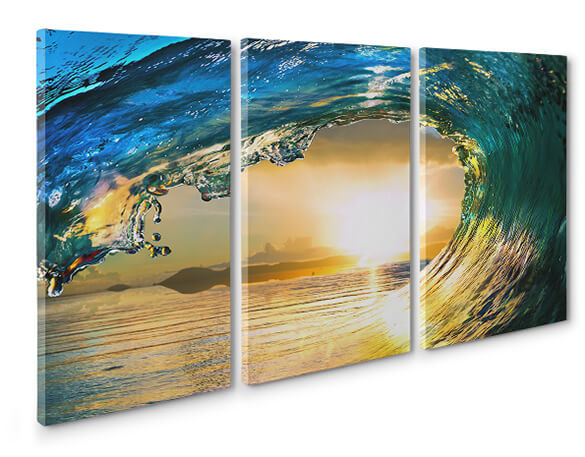 Don't confine your love and creativity due to the lack of customising options. At CanvasChamp, we have built a distinct design tool which allows you to surf through our range of customising options without any additional efforts.
Sizes: small 8" x 8" to Larger 34" x 20".
Arrangements: 8 Designer Groupings.
Prints: Gallery Wraps Canvas.
Production Time: 5 - 10 Business Days.
Certified printers and approved latex inks used
Tightly wrapped around a lite 0.5" gallery wrap canvas.
Can be hung up straight away when it arrives.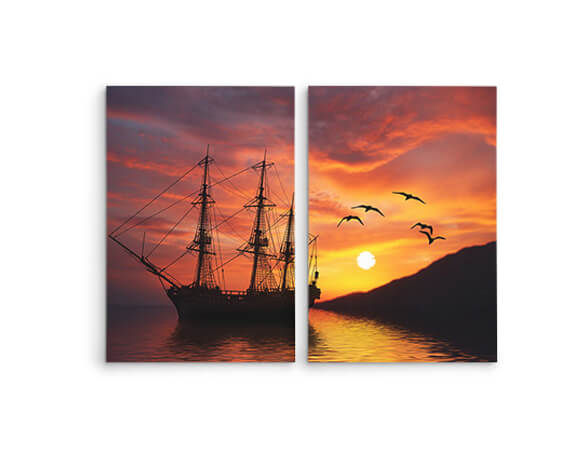 Diptych Canvas Prints
Two-panel canvas is often described with the phrase, "two bodies, one soul" as they split one photo into perfect two photos. Hence, when the split photos are kept near to each other, they show one whole picture instead of two but with elegance. These type of prints are ideal for wedding photographs or candid photos that express love.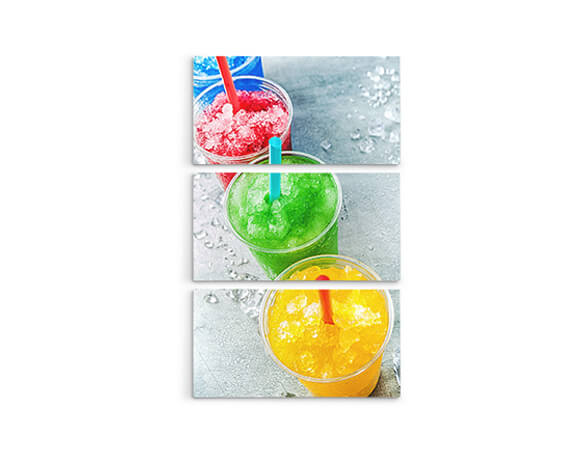 Triptych Canvas Prints
Three-panel canvas prints take the preceding legacy of diptych a step ahead. They are often used to cover the vast space on the wall and work flawlessly with any picture you prefer. Each of the canvas panel included is made by experts to serve you with the best quality three-panel prints.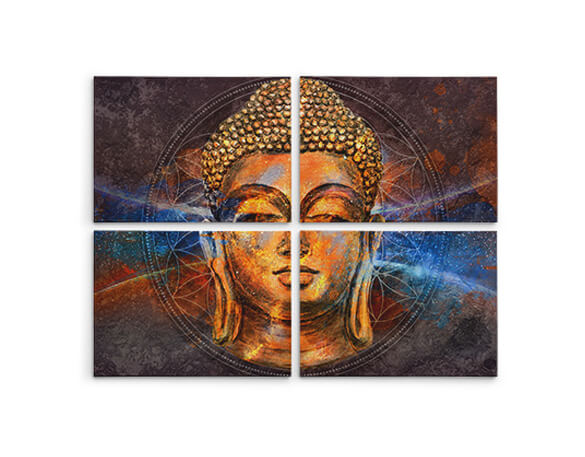 Quadriptych Canvas Prints
Everyone loves art differently and in various forms. Hence, we firmly believe in helping you express them as openly as you can through our products. Having said this, we have four-way split canvas panels that will break free your creativity. You can customise them the way you wish by going through our range of customising options given in the design tool.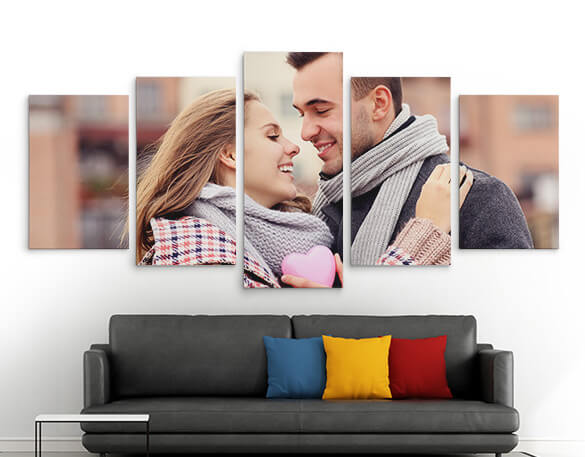 Split Your Moments To Treasure Them Forever
Split canvas prints crafted at CanvasChamp gives you ample options to decorate your home in the most creative manner. Preserve your special moments forever.
Split images to showcase unified love
With split canvas prints from CanvasChamp, you can express your emotions by printing your most cherished moments on canvas. Our user-friendly editing tool lets you upload photos from mobile/desktop/laptop from any remote location to print your photos with us. You can even log in social account to directly upload pictures to our designing tool. We offer numerous customising options to you to personalise your photos further with ease. Get a proof review within 24 hours from the time you submit us your design to know exactly how your photo will look on a split canvas. Get assisted at every step as well if needed.
Defining the term 'Tych.'
Tych is a Greek word for panels or fold. It basically means an arrangement of a picture into four parts. This is now a type of art which is defined by how a photo is spread on several canvases.
How to mount split canvas on the wall?
Mounting a split canvas is not rocket science. You just need to make sure that the wall you hang it on has ample space so that it can look like the focal point of the room.
Adorned with perfection
When you share your designs and photos for split canvases, we make sure that they are made by giving proper care and attention to each detail of the canvas. That is why we always guarantee that your print is flawless before it gets delivered to you. Each panel of the canvas is coated with a UV-resistant and scratch-resistant mixture to shield it from fading.
Portray your images as larger than life
Display photos remarkably with split canvases as it dazzles in your decor. We provide an excellent method to create your very own interior design for your home or office with us. Make split canvases with different images of landscapes and portraits to get the right effect for your decor.
Why is split canvas printing so popular?
Split canvas prints give a different visual impact in a room than a single canvas does. With a bit of imagination, one can split a natural landscape or a cityscape into something that looks unique. That's why it is popular, especially with the younger generation.
What is a multi-panel split canvas art?
Split canvas art is where you take a photo and split it into two or more images which are printed into separate canvases of the same size. They are then grouped and mounted on the walls at an equal distance from each other to form art.
Why should I choose CanvasChamp to print my photo on canvas?
The reason to choose CanvasChamp depends on what kind of services you are looking for your canvas prints. Furthermore, we offer the most options than our competitors in options to customise and have lightning fast delivery. Also, we have economical prices upon which we always give out discounts and offers without compromising on our flawless services. So whether you choose us or someone else, is up to you but we would suggest once to check our on-site customer testimonials and reviews before choosing us.
CanvasChamp

High quality poly cotton canvas to ensure your prints stay forever.

The canvas prints aren't just gorgeous but also environment friendly.

Clear shield laminate ensures that your canvas print stays for centuries.

Our expert artisans use Pine Wood to build your canvas frames. Well, they aren't just beautiful but also durable.

We leave no stone unturned and hence use only the HP certified printers and latex inks to craft your canvas prints.

At Canvas Champ every canvas print is handcrafted by expert artisans. Well, this helps us give personalized detailing to the orders we receive.
Others

Use polyester canvas.

Use canvas that is manufactured with harsh chemical brightening agents.

Do not use protection, so the canvas is exposed to the elements. Use liquid laminates which initially look good, but crack, fade, and turn yellow over time.

Make frames from plywood or by using cheap frame kits that can bow and warp over time.

Print photos on canvas using solvent-based printers, whose chemical inks produce inferior image quality and are guaranteed to fade in less than 10 years.

Use canvas kits with glue and tape. Incorrectly use stretching machines which lead to rippled and uneven stretching.
Come Pick Your Choice Of Perfection
Make a creative wall with the help of split canvases