Acrylic Photo Block Prints
Handcrafted acrylic blocks with 0.7-inch plexiglass that is ideal in adding a personal touch to your living space.
Leading quality of acrylic glass photo blocks online

Edges refined to make it crystal clear

A reflective mirror with a black acrylic base

100% satisfaction guaranteed
Various Size Options in Acrylic Blocks
Fit your perfect pictures into proper sizes available with us. We offer up to 12 custom sizes for acrylic photo blocks.
Supreme Quality Makes Outstanding Acrylic Photo Blocks
Our acrylic photo blocks make a mesmerising showpiece due to these traits: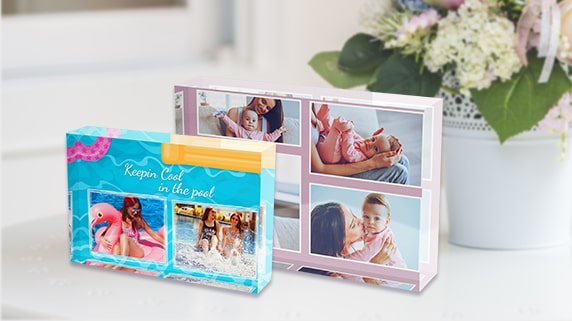 Features
With thick 0.7-inch plexiglass, these acrylic photo blocks can make any photo look like a piece of art. The hand-polished surface of the blocks will never get opaque and is long-lasting.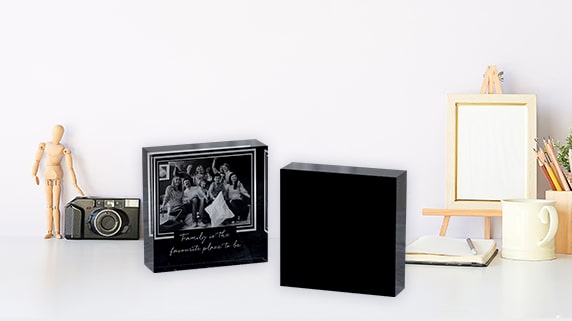 Backing
A black backing is given to every photo to prevent light shining through the back. This way, the vibrant colours of a photo will be emphasised really well through the crystal clear front glass.
Features of Our Custom A4 Acrylic Photo Blocks
CanvasChamp is very particular when it comes to making personalised acrylic blocks. We take care of the following things:
Premium Paper for photo printing

Firmly packed for undamaged delivery

Brightness of colours enhanced

Feels like a personal gift

Lasts for years to come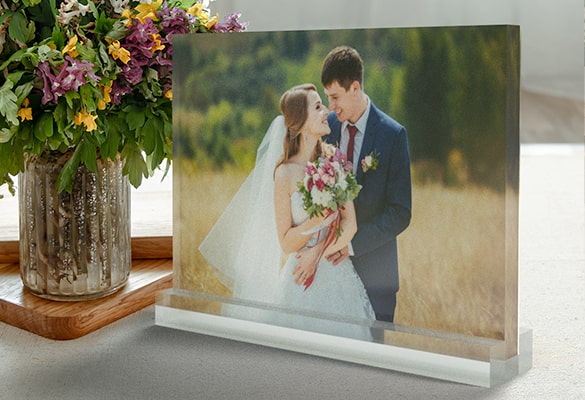 A Special Stand for Acrylic Photo Block
Generally, acrylic blocks don't need a stand but to make the photos look specialised, add an optional black base to the picture. That black base has a reflective mirror that doesn't let the light shine through the image.
All the Info on Acrylic Photo Blocks
Available with more than ten sizes, showcase memories in any dimension you wish:
We have twelve sizes to let you choose and fit your image in it according to your desire. You can even choose to make it rectangular or square.
The edges are lean and thoroughly polished for safety and clear vision:
The edges are polished in such a way that it is safe even if it comes in the hands of children. It has sharp-images but not sharp-edges to get hurt from.
Does not require additional support to stand:
Due to the the thickness of the glass, your special photo will stand out all on its own at a desk, shelf or even a mantle.
The acrylic photo block will give your room a taste of sophistication:
With a 3D effect of your photo, keeping it in a small room will easily make it a focal point of the room.
The editing tool helps you make acrylic photo block in a simple and easy way:
Our state-of-the-art design tool on the website lets you develop personalised acrylic photo blocks the way you want with various options.
Thick glass makes it scratch-resistant and lasts longer:
Custom acrylic photo block prints come with a 0.7-inch glass that is thick enough to be scratch-proof and doesn't break easily if fallen from a certain height.