Adorn Your Abode with Acrylic Photo Prints
Photos on acrylic are the new contemporary alternatives to all the traditional photo displays. Acrylic art prints can instantly bring any space of a room to the centre of attention, making it an excellent way to highlight a photo in a room. They are modern, minimalistic and can make any of your favourite memory stand out. EPSON inks used to give a superb image clarity. Showcases tones in a photo with an illusion of depth. Displays vibrant and specific detailing of the photo.
Pair up your favourite photos with vibrantly polished acrylic for a high-impact visual display. Artists, decorators and even interior designers choose this medium when it comes to displaying their notable works as they showcase images on acrylic very vividly. So, if you have decided to come to this page, I think it's time you had your own acrylic photo print with us today.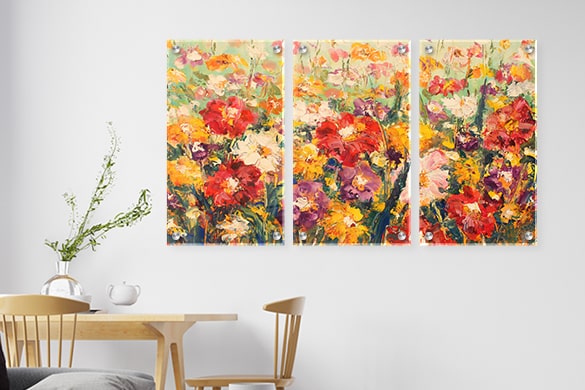 Split Acrylic Prints
Splitting an image gives an aesthetic and contemporary look to the overall room. You can pick out one of your stunning pictures and get it split on acrylic prints to accentuate the walls of your home. By cutting an image, you are creating a stunning mosaic effect of your photo to display!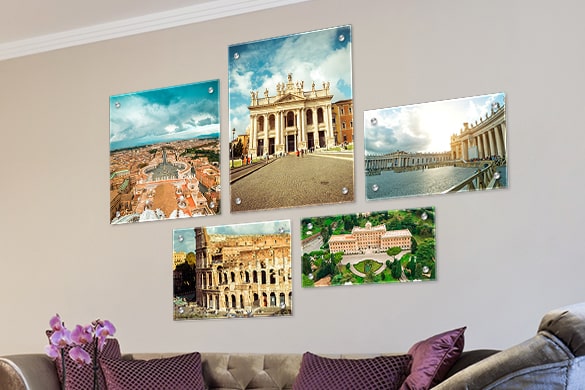 Acrylic Wall Displays
Wall displays can really help you tell a story which is why to give a dramatic effect to your photos, pick out the images you wish to display and print them on acrylic wall displays. The sleek and modernness of acrylic prints will spotlight your pictures on the wall subtly but yet notably.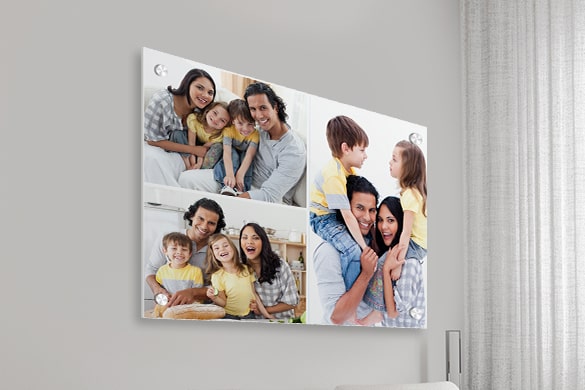 Acrylic Photo Collage
Photo collage apps only help you create collage but do not have any right suggestions on what mediums to print on. Well, we suggest acrylic photo collage as the best way to illuminate all your pleasant memories with your loved ones with us! Get the best clarity on any customisable size and shape to make your collage look perfect the way you want!
Acrylic Can Be Gifted as Photo Gifts
Miniature acrylic gifts to beautify your tables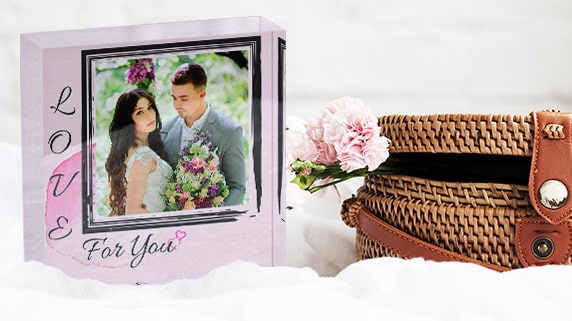 An inch thick plexiglass to highlight your photo
Stand your photo with the help of acrylic glass
Luminosity on your photo with brilliant depth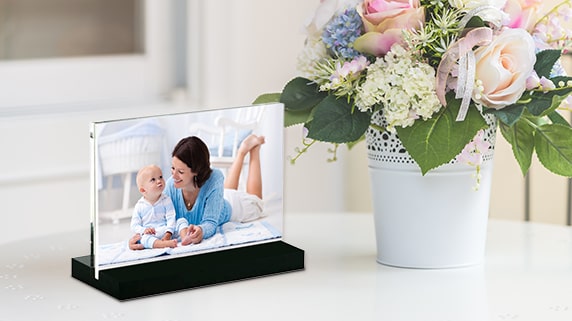 Put your photo at an eye-level on a table
Custom sizes available on table stand
Showcase colours brilliantly on acrylic stand
Check Out the Features of Our Acrylic Prints
 

Eye-catching Art

 

Lasts Forever

 

Easy to Maintain

 

Hardware Pre-installed
frequently asked questions
Q: How do I clean my acrylic prints?

A:

You can clean them with a soft cloth dabbed in an all-purpose cleaner. That way you can remove any fingerprints or just plain old dust. A simple wipe down and your acrylic photo print will look brand new and ready for its next touch attack.

Is this question useful?

Q: What is the depth of an acrylic print with the front mounts?

A:

The acrylic print with the front mounts is made up of 3 parts, the front metal chrome finish caps (1/4" depth), laminated acrylic print(1 / 4" depth) and the back metal chrome finish barrel (3/4" depth).All of these connections are a total off - wall depth of approximately 1" and a total depth of approximately 1 1/4".

Is this question useful?

Q: Are acrylic prints waterproof?

A:

Not exactly like you can let it be out in rain or exposed to water for a long time. However, it is a little bit water-resistant in a way that it can withstand in a room of moisture like bathrooms and indoor pools. But water shouldn't touch it directly.

Is this question useful?

Q: Do you use an industry-standard allowance for your frames?

A:

To help your acrylic art fit securely inside the frame without being too cutting with the packing, we typically allow for an extra 1/8th of an inch adjustment. So, your frame might be just slightly larger than the image size you see to hold everything properly.

Is this question useful?

Q: What media formats can you reproduce from?

A:

You can upload JPG, PNG and BMP format images to us to produce your acrylic prints. Also, we can print from negatives, photographs or even slides.

Is this question useful?
Ask about Acrylic Prints and get answer in email.