Make Your Baby a Star With Photo Collage on Canvas
Newborn babies are fabulous subjects to try your hand in digital photography. Such moments with your infants are emotional and preserves these memories for a lifetime. Did you know you can create bespoke photos of your babies in the form of collages to display?
Well, yes, convert beautiful digital photos of your baby into framed or unframed collage canvas photo prints to mark a starting milestone! We have curated some great ideas on how to try your hand at capturing amazing moments of your newborns with the help of digital photography. You can either take up your very own DSLR (if you have one) or hire a professional freelancing photographer to get those perfect images of your baby.
Part by Part Make the World a Whole
It's the little parts of different memories that make a canvas photo collage great. And since babies grow out so fast, it is easy to forget how small they once were! Get the best details of your newborn kid in two to nine canvas collage template with us. You can use the best photo of your baby in the large size as a focal centre of the collage and surround other images into smaller sizes. Pictures of their tiny feet, hands, ears, mouth and that cute bellybutton will show the delicacy of the baby. A photo like this will definitely make a room as the warmest and awe-struck place with it as a focal piece of decor.
Tips:
Don't overwork with your baby. They have far shorter cycles of everyday routines. So if your baby isn't having a good day with their usual routine then postpone any photo sessions with them till he/she feels better.
Taking photos while they are asleep is one of the best and popular style too. The best part is that you can get to place their hands and feet in whichever pose and click some scintillating photos!
Crying baby photos are fine. But these shots are a tricky one, so make sure you don't keep the baby crying for too long to get that perfect shot and tend to his/her needs asap.
Take a picture when they are laughing; instead, they will look exclusively candid with such magic moments.
And always keep your camera handy no matter wherever you are (and charged too). Make sure you don't miss any moment of the baby doing funny kinds of stuff.
Seasonal Photo of the Baby
Get to seize the baby's moments showing the four seasons of the year in one big collage! Show summer, autumn, winter and spring with your baby as the main star of the season surrounding him/her! If the baby is too young for outdoor photography, then try posing him/her near the window showing the season outside.
Tips
You can use specific props according to the season to give a good influence on the background of the photo.
Always keep the baby's strengths in mind. A newborn baby can't pose so lay him/her down for the photos if they can't sit up on their own.
Try to use neutral props or blankets while showing off them into a season. 
Babies below five months can't sit on their own so that they can work out photos in this way.
Real-time Shots of the Baby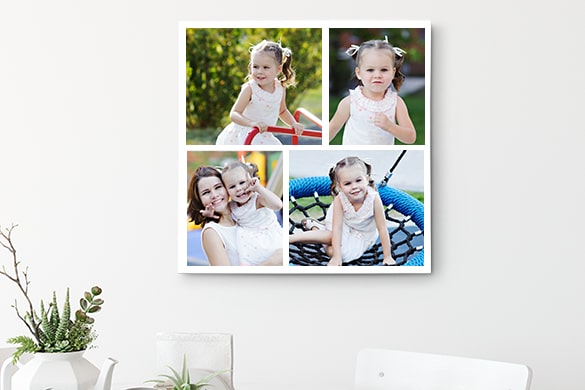 Choose burst mode and take several fractional photos of your baby laughing, reaching for a rattle or about to sneeze, then print the photos to make a collage set. These type of photo collage on canvas look like a film reel being shown which are super fun and fabulous to look at from any angle.
Tips:
You will need to take a lot of photos to get the right frames of images to print. Even if you have to take pictures in hundreds, don't worry, you can always review cluster to use for the photo collage.
Always keep in mind to maximise your burst rate and take as many photos as you can while holding the shutter down or as your camera allows.
Get to the baby's eye level to take the burst shots. This will, in turn, minimise distortion and put him/her in focus rather than the background.
Watch your angle. Take photos from his level. This will reduce distortion and put him in focus, rather than what's surrounding him.
So we have given some tips to create the best memories of your baby's first year, which is an exceptional opportunity to seize the best moments. Get to create these photos with us in fantastic photo collage templates in any custom style that you prefer or want. Visit Canvas Champ for more options to customise your lovely baby's photos.