How to Order Canvas Prints Online
Canvas Prints have become a big name with thousands of prints being sold online as gifts all over New Zealand every day. Not many people understand how much of a difference can they achieve with canvas photo prints in their home decors. Many top interior designers today use canvases as one of the vital focal points while furnishing any space to make it elegant. Recent popularity with different types of canvas prints like panel displays, pop art, collage is making a massive wave with people everywhere. More and more people today are trying their hand in creating personalised canvas wall art online on different websites.
With canvas prints, you can quickly turn your designs into actual works of art. You can instantly transfer images unto the canvas without even lifting a paintbrush. Through the help of online printing services, you can beautify your walls with quality canvas photo prints in just minutes! Whip a design or an image you have in mind and get it printed with us on canvas. Get the chance to fill your interiors of any living space with custom canvas prints.
Commercial online printing companies equipped with highly technological machines can do a variety of printing for your different needs. You can provide yourself with a diverse assortment of printing products which you could even customise yourself.
You can start with an 8x8-inch dimension for your canvas printing or blow it up to a larger the life scale of 54x54-inch sizes. Printers use digital printing technology to print files fast, accurate and secure. Digital printing can print on several surfaces which other printing processes won't allow, which makes canvas printing an easy task.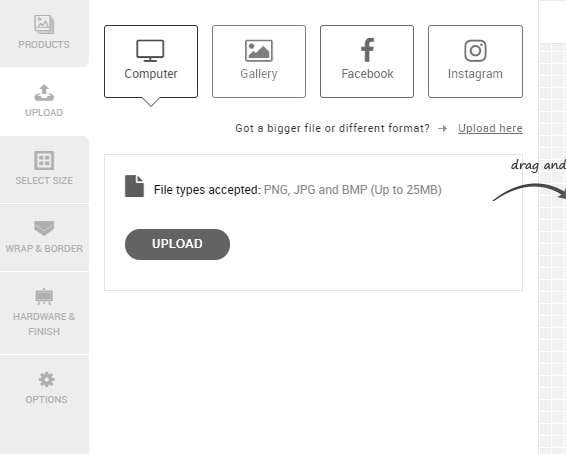 Step 1: Choose an Image
Possibly the most essential step when creating your very own personalised Canvas Print is to choose the right image. If you are struggling for ideas, but wish to add a canvas print to your home, then popular plans include; family photos, pets, landscape photos, hobbies and interests. 
Step 2: Print Image
Once you have prepared and chosen your photo, you can go online on our website and choose a canvas type of your preference. The product page will have options for the sizes; you can choose any your print.
Step 3: Stretch and Frame Canvas
Printing companies accommodate requests for a 0.75-inch or a 1.75-inch border around your print, which gives a unique look to your photos. You can also check other customising services like available filters, finished and hardware too. 
Step 4: Hang Canvas
Once you have given all the details on the website tool, you can proceed at check out and pay on the website. We have various printing options that can let you pay through net banking, credit card or even through the debit card. 
Custom canvas prints with us are short-run orders are we offer 100 prints at maximum. But you can still have more printed with us by just emailing us about it. We can discuss the price, turnaround time and the delivery time for the same. We also provide free ground shipping too so you won't have to pay or worry about anything else. See what works best for you and remember these tips when you order your canvas prints today with us!