Introducing the New Acrylic Photo Blocks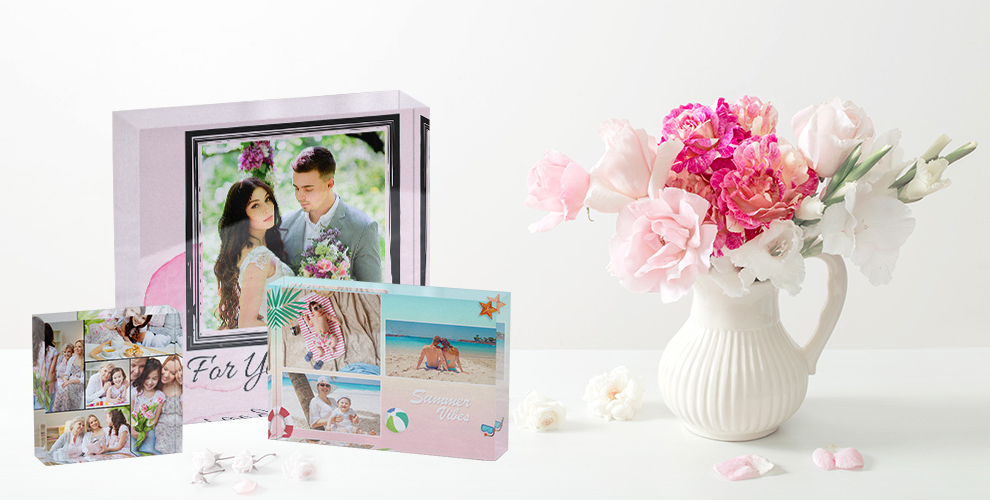 So far, we have been delighted to serve you with our products and received a good response towards them. Having said this, we have finally decided to launch a completely new product that has been demanded a lot from us- the very new acrylic photo blocks! These beautiful glass photo blocks bring your photo look alive remarkably! The acrylic part is made of 1-inch thick plexiglass that protects your photo inside and makes the colours look vibrant. Ideal for displaying such an item on a desk, bedside table or a mantle and an excellent gift for any occasion.
Acrylic photo blocks are different than other acrylic based photo items that have a sheet of acrylic on it. Here, acrylic block is made wholly of plexiglass itself to give your photos a 3D effect. Acrylic photo prints, on the other hand, are different as a picture is infused on the acrylic sheet. We provide about 12 sizes currently on custom acrylic photo block prints for you to showcase your fondest memories. Import photos from any location and any device to customize the block in any way you wish. You can even log in to your social media accounts like Facebook and Instagram to upload photos from your profile's albums.
Acrylic blocks were first used as a paperweight with nature shots photos inside. Nowadays, they have evolved and widely customised for decorations at homes and office spaces. Since they are easy to transport and place anywhere, they are mostly given out as gifts depending upon various sizes of it.
We have clear and polished plexiglass over a photographic paper that makes your photos look vibrant. Although we don't have options on the photo paper type yet, we have the best white lustre paper for now as a base to make the colours of your pictures pop out. So, create and customise your very own artwork or the painting that you always wanted into a tabletop accessory.
The detailed specification of the glass blocks:
Sharp view of the image with diamond-cut edges.
A free-standing acrylic glass block for desks, tabletops or shelves.
Crystal transparent layer, which is polished to refract like a gemstone.
Available in a range of custom sizes from 4" x 4" to 12" x 8".
Acrylic image blocks are considered as a perfect gifting item as they can survive well up to 100 years if maintained properly. Not that they are hard to maintain, cleaning them is easy as they only require a damp cloth on them from time to time for dust removal. We also take utmost care while packing it to ship to you as it is a glass block. We wrap them in a bubble cover to protect the edges from any breakage during shipment.
Not just only home space but also the office can be decorated with the acrylic blocks because of its design appeal. One can display birthday celebrations or success at a business to place it on a desk. An opportunity to create a unique business logo or display achievements on an acrylic block is not only unique but also creative. We have a user-friendly design tool on the website that lets you make a personalised acrylic photo block within minutes of your time.
Since we let you customise this exceptional artwork of acrylic photo glass block on your own, you must be thinking about it as expensive. Let us assure you then that the prices begin from N$14.49 and goes up to N$69.99 depending only upon on the size chosen to customise. A right base and photo paper are already selected for you, so it helps in picking your favourite photos without worrying about the vibrancy of colours in it.
Check out these beautiful acrylic photo blocks with us today!