Top Halloween Canvas Prints Ideas to Decorate Your Home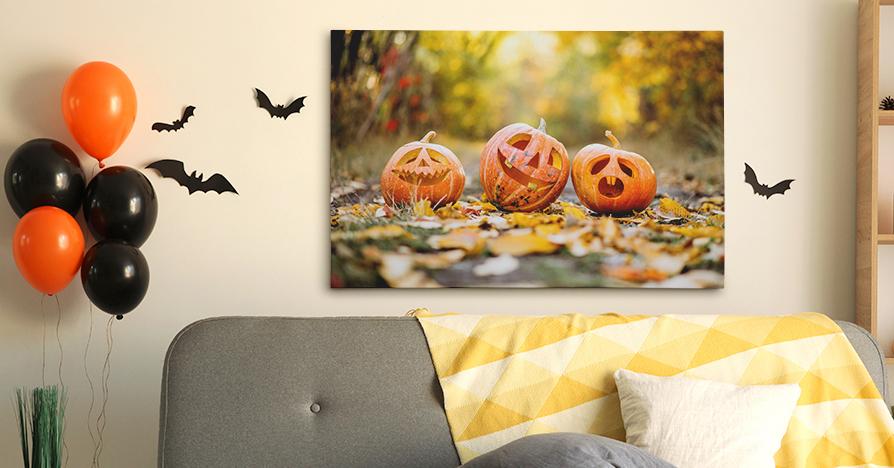 Costumes and candy are the hallmarks of Halloween and holiday lovers tend to have a natural preference for autumnal spookiness when it comes to Halloween. However, Halloween would be nothing without its over-the-top home decorations, which again seem to get more creative each year. 
Thanks to the internet, these ideas are now more accessible than ever before. However, it can get quite confusing with so many ideas to choose from for your Halloween home decor.
In light of this, we've gathered a few canvas prints ideas for your home decor this Halloween for your enjoyment.
5 Best Helloween Canvas Print Idea for Home Decor
A Spooky Photo Canvas Print:
Photos on canvas prints can be turned into great gallery walls if you want to display your images. It couldn't be more wholesome than a Halloween photoshoot with Halloween costumes and spooky makeup! 
Your loved ones can dress up as the Addams Family or Stranger Things characters, regardless of whether you choose to take on the theme.
Also, you can preserve memories of good times with your loved ones by taking a series of photos of them having spooky fun. If you include a picture of your pet dressed in Halloween gear, you've got a home decor idea from which no other can compete.
When Halloween is your favourite, but you don't want to go overboard with it. Personalised canvas prints with your most spooky Halloween memory at CanvasChamp are the best bet. Custom canvas prints with your scary Halloween memory are a great way to bring some laughter and joy to the home. An example could be a photograph of you in a Halloween costume as a kid.
These fantastic canvas prints can be placed either in your living room or even in your bedroom. And if you don't want to add your spooky memory to the print, you can always go for something more serious, like a scary movie scene.
Spooky Motivation with Canvas Prints
Think of quotes when you imagine a canvas print since they can be fun and humorous, just like photo and art canvas prints. Halloween is the empty time to decorate your home with quotes like trick or treat or something more spooky as per your wish and add more fun to this orange fest.
And to add more to these canvas prints, you can also add a complex dialogue from your own or maybe from one of your favourite movies. You can choose the grid format, making it an excellent pairing with other prints for a quote canvas print. 
Add A Hint Of Gray This Orange Season
Black and white are always associated with Halloween, despite orange running rampant this time of year. In addition, if you prefer something more artistic, theme canvas prints in grayscale are perfect. Adding grayscale to your home decor adds an added level of spookiness and is just as effective as white scale.
Furthermore, grayscale art is a neutral choice that blends effortlessly into any décor and conveys a strong message at the same time. Grayscale prints are always a great option if you are going all out for Halloween decorating but don't want too much colour throughout the house.
Go Old School This Halloween
When vintage art is used in canvas printing, it is fun and becomes more interesting. However, vintage Halloween canvas prints do not focus on horror. Most of them do not use disturbing images as much as they use subdued colours.
There is undoubtedly a Halloween-themed canvas print for those interested in vintage art or comic art. Halloween decorations created in this style look much like traditional art.
Conclusion:
When you use canvas prints for your home decor, you will never be limited to a single style. Instead, you can mix and match canvas print styles and themes to decorate your home differently this Halloween. Our variety of canvas photo prints allow you to put one large image on the canvas or create a collage using several pictures and add more fun to this festival.
Canvas prints are available with so many customization options that they fit any style and budget. So wait no more and add more fun and laughter to this orange fest by ordering canvas prints online.