Best Personalised Gifts to Give - Photo Mugs and Magic Mugs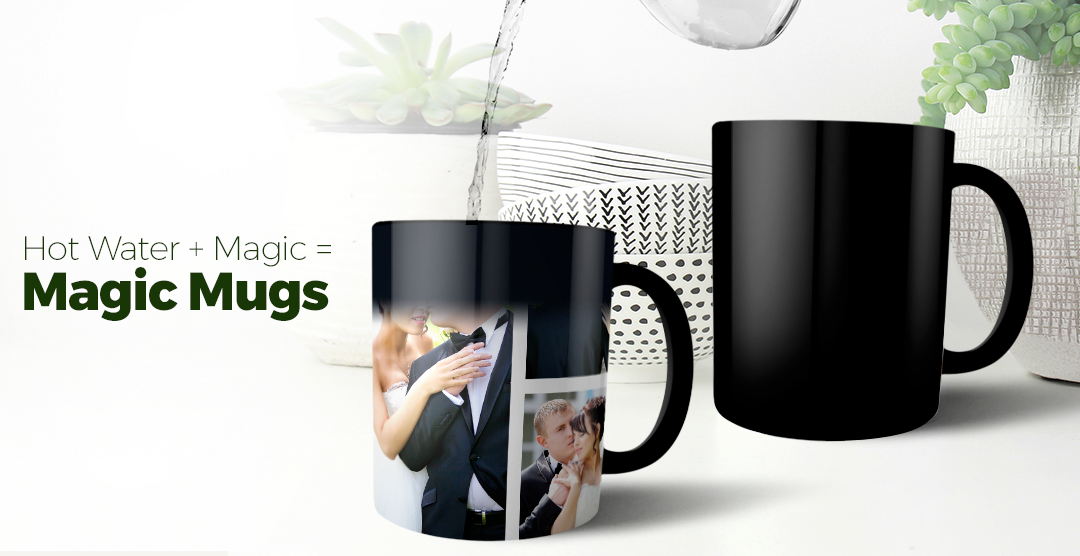 Everyone has a favourite beverage that they consume almost every day or even multiple times a day, which is why there are always as many mugs in the cupboard of a kitchen as there are family members in a house. Keeping this fact in mind, mugs have ended up becoming a popular choice of people to gift on various occasions. But with better trends in mug gifting industry, customised designs on mugs are becoming a huge rage nowadays. 
Many mug printing online and offline stores are now available in the market on a vast scale to fill this gifting purpose of consumers. Some mugs can be readily designed online and delivered within a week through online platforms. Also, gifting stores keep a huge variety of generic custom photo mugs which makes it easy to choose the right gift for the right person at the right time.
Any desired mug can be grabbed in different colours and designs with a favourite photo or quote on it. In the case of custom text, fonts and colours can be decided according to the wish. Personalised photo mugs say a lot about the person who uses it. To exert a positive impression, a sensible quote on the mug can be the right choice.
Taking photo mugs to the next level, magic photo mugs printing is a new thing which is also getting trendy these days. It is called a magic mug because of the camouflaging feature of printing. The mug remains in mono-colour such as blue, black, red, green, or other colour asked by the buyer. When it is filled with hot liquid, for instance, milk, coffee, tea, or soup, it changes its colour, and imprinted photos or designs get revealed. This feature makes magic mugs popular and appealing.
On different occasions such as birthday, anniversary, and other special days like mother's day, father's day, and teacher's day, it can be a great gift because it is an item with the most utility. Especially, kids love magic mug a lot because of its personalised uniqueness, and everyone knows, magic amuses kids most.
Generally, a birthday is the occasion when people give presents. If the gift appears individualised, the receiver feels more special and appreciative. In such a situation, birthday personalised photo mugs with photos of the birthday boy or girl become a good choice. There are many websites on the internet dedicated to being the bridge to reach such companies that provide customised ceramic mug within a week irrespective of the locality of the buyer. In case, if the buyer wants the mug to be delivered directly to the person supposed to get the gift, companies offer gift wrap too so that mug can be reached as a gift, not as an everyday item.
Personalised photo mugs make a spectacular gifting item for your loved ones or simply anyone. Whatever your reason for gifting may be, it is easy to print our photo coffee mugs online. CanvasChamp has a few exciting ideas to create unique custom photo mugs and magic mugs. There are mugs for wedding anniversaries, birthdays, graduation day, Valentine's Day, Friendship Day, and so on. Make your loved ones' day special with a personal touch.
Choose from multiple templates like the wrap-around single photo, or up to four photos to make a beautiful collage of memories. Upload your pictures according to the theme you have in your mind and click add to cart. Your gift will be delivered to your loved one's doorstep. Place your orders for personified mugs right away.