Magic Mugs with Us Come with Amazing Features
Now make mornings surprising for family and friends!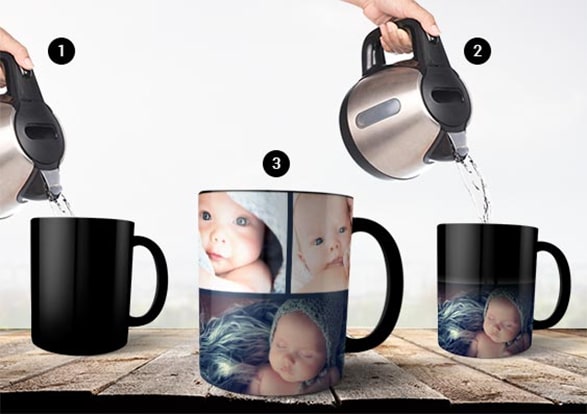 Give These Magic Mugs as Gifts
Magic coffee mugs are excellent gifts especially people who like to see their coffee first thing in the morning. A cool gift for kids to make them excited to start a new day with a surprise. Just like personalised photo mugs, making a magic mug is as easy as making a few clicks on our website. No, literally you just have to make a few clicks and we will make it for you!
Product Details:
Mug capacity- 325ml
Heat-activating technology coated on the mug
Add one or four photos on the mug
Can also customise with text
Excellent printing quality of your photo
Our Design Tool Has the Following Elements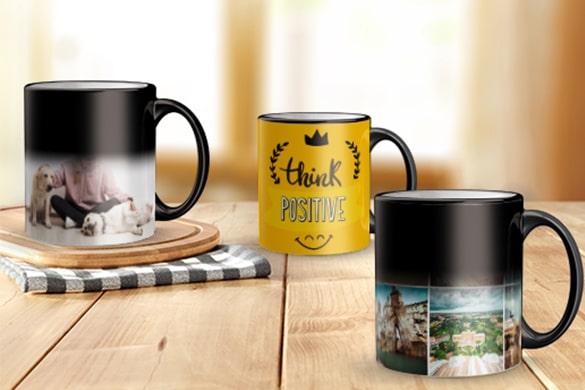 Magic mugs basically work its magic when a hot beverage is poured into the cup. A coating of a certain colour is applied (mostly black) to hide the inner image. This coating is made of thermochromatic ink. Hence, it gets transparent when it comes in contact with hot liquid. Our magic mugs not only come with this basic technology but also we have more options for you to customise your mug with. Have a look:
Get to decide one wraparound image that you like to make it a panoramic view on the mug
We have layout options where you can select up to four images to put on one magic mug
Put text or clip art if you are confused with choosing a personal photo
Basically, white ceramic is used to make the magic mugs
Protective coating to make your photos last longer
Online payment options available
Varying delivery options available
Why to Buy Magic Photo Mugs Online?
Magic coffee mugs from us come with the utmost care and convenience to you
Hot-n-Show

Durable structure for frequent use

Packaged and parcelled with care
Custom Magic Mug FAQs
We have answered a few common questions for you
Q:

Can print any kind of photo on the magic mug?

A:

Yes, you can print any photo that you like on the magic mug, may it be a family photo or a design or an artwork.

Q:

How hot should the liquid be for the image to develop on the mug?

A:

We usually boil liquids to 100°C may it be water, tea or coffee. But the minimum temperature needed for the photo to appear is 75°C.

Q:

Do the photos fade away on the mug?

A:

No, the printed photo doesn't fade away even with frequent washing. BUT the photo can chip off if scratched with pointed objects so keep those away.

Q:

Do you offer colours besides black for magic mugs?

A:

No, we do not offer colours other than black for magic mugs because other colours give away a photo beneath it and the thermal coating doesn't work properly with different colours other than black.

Q:

How does the colour exactly change in the mug from black to the photo?

A:

The colour change effect happens due to the black colour made by photochromatic inks. The photo printed inside is made from normal printing inks but with a sublimation process. Hence, the photo doesn't fade with temperature. But when the black colour comes in contact with heat, it becomes transparent to show the printed photo inside.
Ask about Magic Mug and get answer in email.