How To Create a Personalised Chopping Board?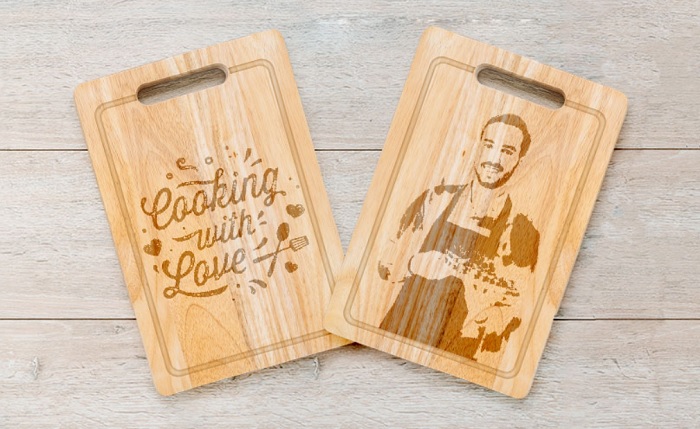 Cutting vegetables and fruits is such a mess, especially when it leaves stains and marks on your cooking area. And rinsing them off your kitchen is a painful task and a wastage of time, but with chopping boards, you can finally have some relief.
But, why settle with a plain board when CanvasChamp can offer you a personalised chopping board. 
Why Get Yourself A Customised Chopping Board?
Save Your Kitchen From Mess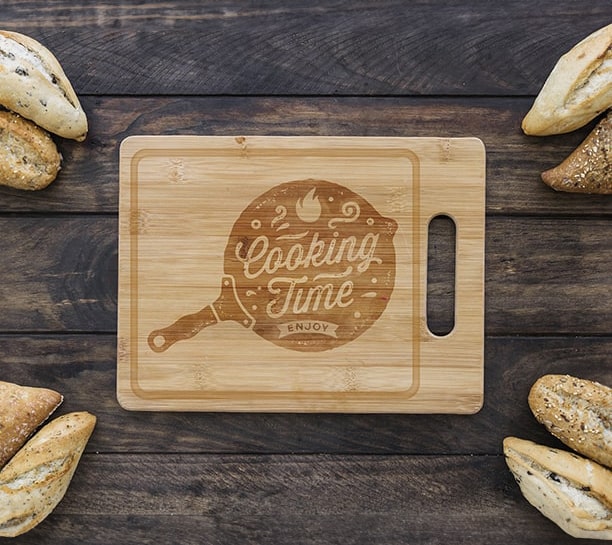 Imagine you have guests coming in, and your cooking area is a mess because you just chopped vegetables for starters. That's not a good scene to come across. And with the concept of the open kitchen, nobody would like to enter a kitchen with leftovers of fruits and vegetables and the stains that they leave behind. 
It makes the kitchen look unhygienic, so without a second thought bringing home designer customised chopping boards can be a total lifesaver for you.
Help You Keep Your Kitchen Stay Hygienic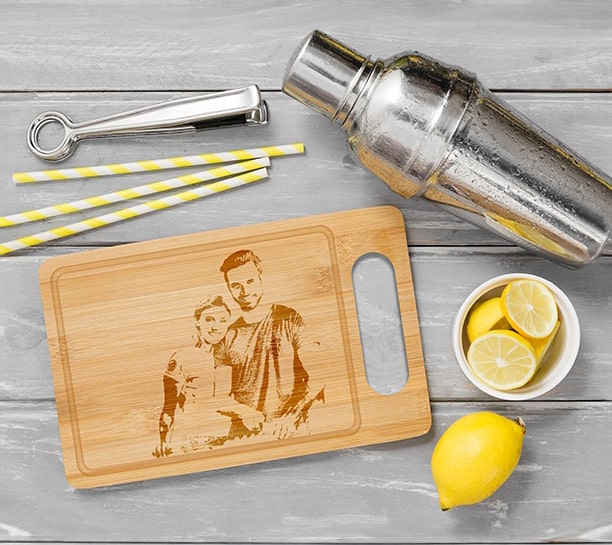 Chopping boards will keep your kitchen clean and tidy, so now you can chop your fruits and vegetables with ease and no mess. They are also accommodating when either you are learning or teaching someone how to make food. How? If you are an amateur in cooking, you must use a chopping board to cut your finger. 
Promote Your Business In Style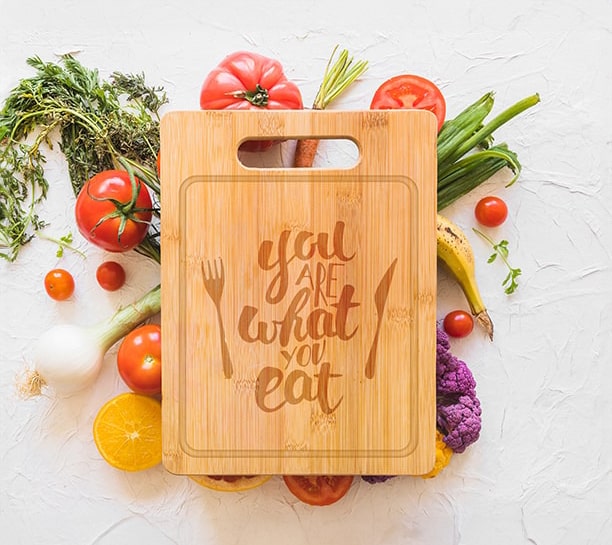 You can use chopping boards as a promotional product to expand your business. Engrave your company's logo in this custom wooden chopping board to promote your business. Not just that, if you are interested in cooking or you know someone interested in cooking, a personalised chopping board is a perfect gift for them.  
Restaurant owners and hoteliers can use these gorgeous yet functional custom wooden chopping boards to add elegance to their space. You can have your menu printed on them and use it as a showpiece for all your customers. 
Gift Out to Your Chef Friend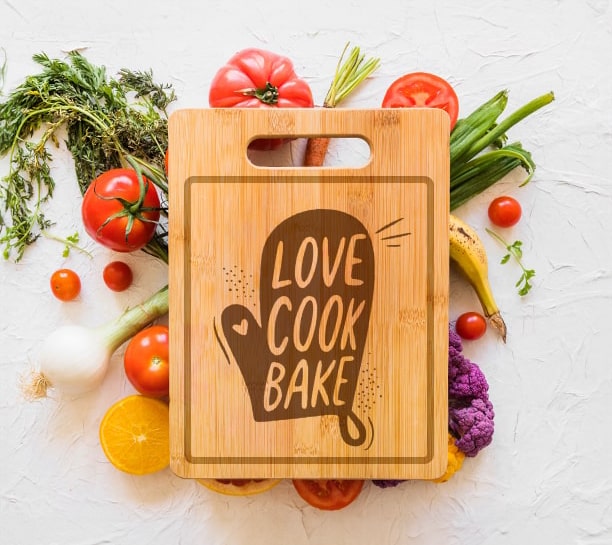 Gift a personalised chopping board to someone interested in cooking with their name, a favourite quote, or a photo that can replenish their memory and make them happy every time they see it. 
How to Get A Customized Chopping Board?
Now you must be wondering how to create a personalised chopping board? Well, the process is straightforward, and you can design the one you want in a few minutes right from your laptop via the easy-to-use design tool of CanvasChamp in no time.
Using The Design Tool Is Simple:
Select the Size You Want: 
CanvasChamp's design tool offers you four different sizes to choose from; these include 
Small (12X8 inch)

Medium (14X12 inch)

Large (16X12 inch)

Xtra-large (12X 18 inch)
Different sizes help you get the board of your choice, and these personalised chopping boards suit any desired setting, right from your home to restaurants.
Upload Image You Want to Print on Custom Chopping Board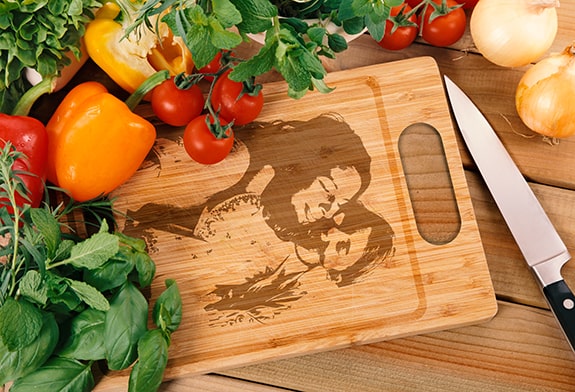 After choosing the perfect size, select the image you want to upload that will be engraved in a custom photo chopping board. The image format supported by the design tool is PNG, JPG, and BMP up to 25 MB. You can upload your image from your:
Computer

Mobile's gallery

Facebook

Instagram
Finalize the Layout You Like
You can choose up to 4 photos you like for your custom photo chopping board. These photos can be a combination of your fond vacation memories with your loved ones, your pet's first picture, or even your business logo. 
So select the perfect layout and share your memories as a gift on CanvasChamp.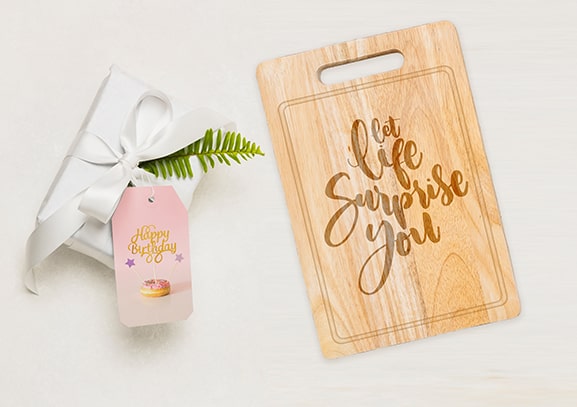 Sometimes, all we need is a favourite quote, a line that inspires us, motivates us in bad times, especially when your cooking is not going the way you want it to go. 
With CanvasChamp's design tool, you can now engrave quotes or text on chopping boards to inspire you, motivate you every time you cook a meal. Just add the text you want to display, select font (P.S. CanvasChamp gives you 21 different fonts), size, colour, alignment, and style of your text.
Add clipart to your creation to make your custom wood chopping board look more appealing and attractive. A variety of clip art is available to set the mood for your chopping board, so select the one that grabs your attention.
That's All!
After choosing all the details, you want to engrave on your chopping board, place the order to get it delivered to your preferred location. Now you can sit back, relax and wait for your order that is out on delivery.