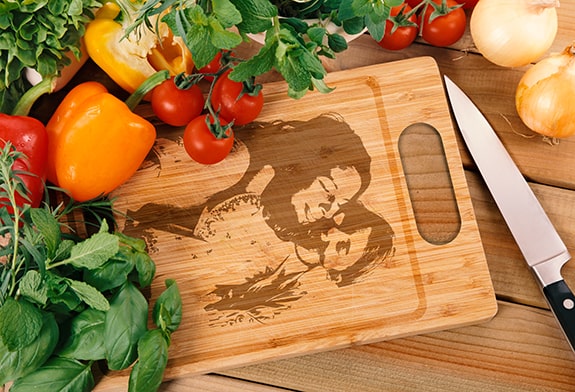 Chopping Board Specifications
We offer four sizes of chopping boards when customising:
Small: 12"X8"
Medium: 14"X10"
Large: 16"X12"
Extra Large: 12"X18"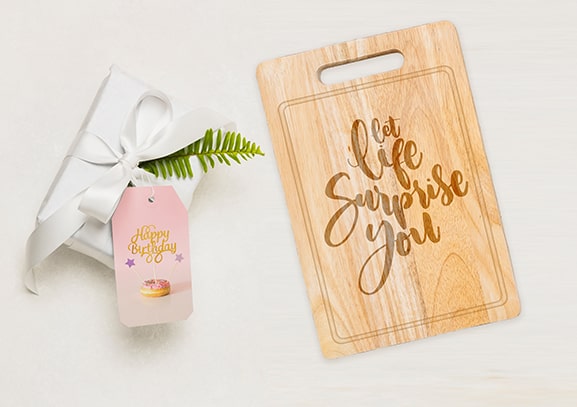 Custom Chopping Boards as Practical Gifts
Each chopping board includes the option to be engraved. Our engraving tools aren't limited to just a name or initials; you can also choose to have a special image engraved into the wood or your business logo.
Custom chopping boards make for thoughtful and practical gifts; no matter if the person in your life is an expert chef or is merely looking for new decor for their kitchen, there are plenty of occasions a personalised chopping board is great for.
Our Chopping Boards are Great For:
Wedding gifts
Anniversaries
Housewarmings
Standard Kitchen Decor
Branding Material
Birthday Gifts
Mother's / Father's Day Gift
Frequently Asked Questions
What resolution is best for an engraved image?
We recommend using a minimum of 200 dpi or larger for images or graphics that are uploaded. Text entered through our design tool is already primed for optimal resolution and needs no further adjustment.
How do I care for my custom cutting board?
Wash and clean as you would any wooden kitchen utensil - hand wash in warm water using a mild dish detergent.
What technology is used for engraving?
We use a laser to engrave on the wood. The laser beam is used to burn / engrave on many different materials, including these chopping boards.
What if I want only an image and no text?
We recommend uploading your desired image and then leaving the text area blank in the design tool. This will ensure that only your image appears on the wood cutting board.
Can I order custom cutting boards in bulk?
For all questions regarding bulk orders, please reach out to our customer service team. You can call our toll-free number +64-4-8861008 or email us at cs@canvaschamp.co.nz. In addition to those two options, we also offer a chat feature on our website that will immediately connect you with a member of our support staff.