Launching the All-New Magic Photo Mug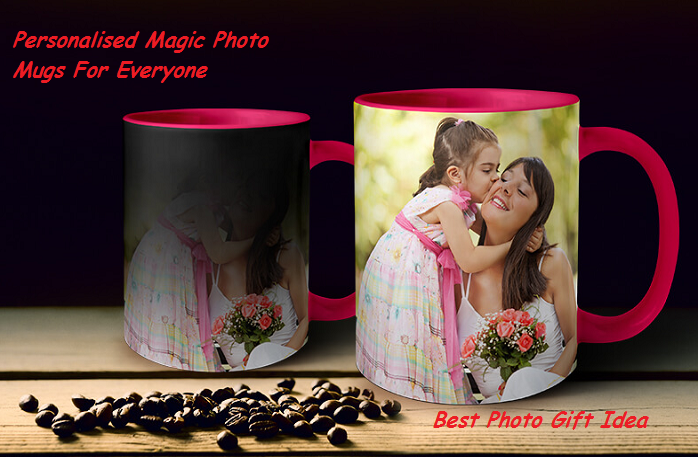 Mugs have long been a favourite resource for marketing campaigns and gifting purposes. Recent advances in printing technology have created some stunning variations on this theme that are sure to stand out from the competition. One of the most effective of these is the range of printed mugs that are affected by the addition of hot drinks. The effect of the hot drinks is to make a previously invisible message, or photo magically appear and then fade as the drink cools. Such mugs are known as magic photo mugs, and we are launching it on our website today! A magic mug is going to be 'The Revolution' to gifting and business purposes all across the spaces.
The custom magic mug can be printed with a base design which is then overlaid with solid colour such a black (a popular colour these days for magic mugs). When the cup is subjected to a hot liquid, part of the overlaid design will become transparent, revealing the base design and creating an eye-catching effect. The container will revert to its original state, i.e. black coloured mug, as the mug cools.
You can initially print with a photo which is then concealed beneath an opaque heat sensitive coating (usually black). When cold it has the appearance of a plain black mug, but when a hot liquid such as tea or coffee is poured in the coating becomes transparent, and the image is revealed. As the mug cools the layer again becomes opaque, and the outside returns to its original state. To enhance this effect, even further a design can be screen printed onto the surface of the coating, and this will be permanently visible.
Of course, customisation of such a mug comes at a lower cost with us, which is excellent for those on a limited budget. The finished product will be a durable ceramic mug which even with frequent usage or washing won't make any layer of coating fade. Our printing options let you create unique designs which will continue to engage the recipients long after the promotional event is over keeping the printed corporate message in the forefront of their minds. Or we even have options to help you print according to a special occasion like birthdays, anniversaries, graduation day, baby shower and many more. Although we only have one standard size of 11 oz for it yet, we offer about in about ten colours to help you match with your photo beneath!
All of these items can be found on our websites of Canvas Champ. We even showcase a preview upon your creation of the design to know how your photo will look on the magic mug with the upper layer of the solid colour. Canvas Champ is one of the leading distributors of printed products for home decor and gift ideas. Our website features an editing tool that helps you design your product with your own photos in any way you wish at the lowest prices in New Zealand. So make your magic coffee in our magic photo mug today!