Top Black Friday Gifts Ideas for Every Relation
13 Black Friday Gifts to Consider for Any Relation
It is easy to get confused between the wide gift ranges available in the market. But, when it comes to Black Friday, you want nothing less than perfection for all your relations. So, here we present to you the list of top Black Friday gifts for all connections.
Another major decision while selecting the Black Friday gifts is the best black Friday gifts for mom. Custom aprons are the perfect gifts for mothers who love to cook for their kids. In addition, these aprons can be printed to have photos of the entire family of the kids. So, make sure to gift your mother aprons that will make her feel connected even when you're far away from her.
If you're looking for something special for your father or elders in the family, nothing works better than the didactic memory games. These games are the black Friday gifts for dads who can easily spend their evenings or weekends while working on these games. A perfect Black Friday gift for someone you just can't thank enough for whatever he has done for you in your whole life. 
If you're looking for something unique in gaming or puzzles, a custom Rubik cube is another excellent choice. Ideally considered the best black Friday gift for him, you can print the best memorable images with your love. Who knows that his love for you will keep on deepening while he is trying to solve the customised Rubik cube puzzle. 
Photo Light Switch Panels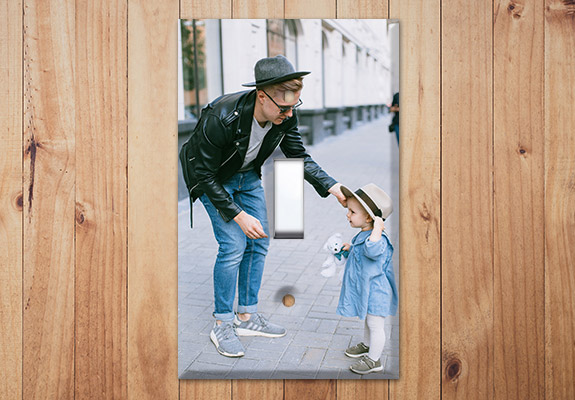 If you're bored of the routine gifting ideas, go for the best tech gifts this Black Friday. It is ideal to have photo light switch panels that work perfectly for any home that never wants to miss its inhabitants. In addition, the high-quality printing on the light switch panels is durable and never interacts with the switch panels' safety concerns.
Personalised Love Plaques
It is always hard to gift anything to the love of your life. So, what have you decided on for the Black Friday gifts for her? We have personalised love plaques that are a highlighted way of expressing your love for her. You can use the song that you consistently dedicate for her with a memorable click of your lifetime.  Needless to say, these love plaques are highly adorable and can be placed at any corner of your home.
Double Layer Acrylic Frames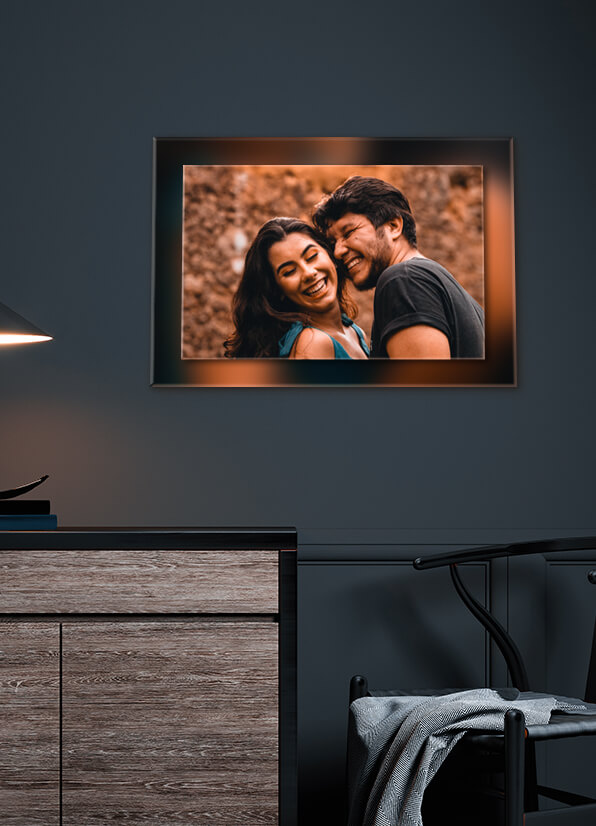 Photos and frames are perfect gifting ideas. Hence, the best black Friday gift ideas remain incomplete without the double-layer acrylic frames. These frames are suitable for contemporary places that want to go ahead of the regular photos or prints. The double-layer remains light on the walls but highlights the special moments at your place. These are highly durable and lovable gifts for any family or friend.
When it comes to the photos, nothing matches the feel and warmth of the canvas wall display. These canvas prints not only cover the entire walls of the living rooms or the bedrooms but offer great gifting ideas on this Black Friday. It is a perfect gift for the persons who want to cover the big walls at their place with a couple of unique clicks.
If you're thinking of something special for your better half, what else to go for than the wood prints? The Black Friday gifts for the wife are incomplete without the wood prints. You only have to take a unique click with your wife, get it printed on the wood using the high-end craving technology. It is a perfect way to convey your love and care for the woman of your life without worrying about her choice as it is liked by many women globally.
How about gifting your loved ones something helpful on this Black Friday? The photo pillows work well as the best black Friday gift ideas for many households. Pillows form a part of the living rooms or the bedrooms and can be customised in several ways. The photo pillows work well for families who want to connect with their loved ones even when they're away from each other. It works well to have the particular click of the person's life printed on the durable pillows.
Other practical gifts on this Black Friday are the photo mugs. It is ideal for your friends or family members who love to sip coffee or tea throughout the day. All you need to do is get a memorable photo of the person and get it printed on their mugs. A special Black Friday gift that fits well in the average and mediocre budgets.
Coming to the best Black Friday gifts for husband, rolled canvases are another perfect pick. It works well for the men who have to travel frequently and hence miss their family. It is easy to carry the rolled canvas, get them placed on the walls, and cherish the special moments of your life. 
Black Fridays are incomplete without some serious and dedicated canvas prints. How about gifting your loved ones the love and warmth of the modern canvas prints. These prints are durable, highlighting, and an essential part of the best black Friday gift ideas.
Split canvas prints are liked by persons of all ages and hence forms perfect Black Friday gifts. How about taking these prints to the next level by going for the split canvas prints? These prints are excellent storytellers, can be from an outdoor expedition, or simply about your best memories.
Wrapping Up:
A personalised gift rather than a store-bought item can do wonders if you want to up your connection with a particular person. These were our best Black Friday choices for you to pick from for this holiday season. Let us know how you like them!