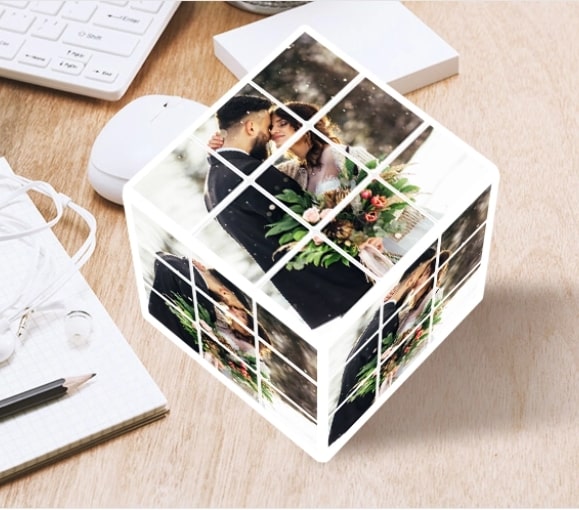 Custom Rubik's Cube - Let the 3D Puzzle Be More Challenging
Personalize Rubik cube - Classic puzzle with a unique twist
Make your loved one's day special, gift them a personalized Rubik cube with their photos printed on it and bring a smile to their face. Compared to the original puzzle, a custom-made Rubik cube will be comparatively more pleasing to solve for children and adults.
Rubik's Cube always attracts game lovers as it has 43 quintillion possible moves but just 'one single' solution. So why not the single solution be your or your loved one's image? Personalize a Rubik's cube on CanvasChamp and make it the best gift your special one will ever receive.
Beyond using it as a personalized gift option, you can even make it a branding tool. For instance, you can design it with your brand logos or customize it as a barcode scanning gift option. So when your customers solve the puzzle for the first time and scan the code on your app, they get some discount on the next purchase.
There are various customization options for the personalization of the Rubik cube - an addictive multi-dimensional puzzle. You think it, and we will make it happen. Choose your preferred design, image, captions, logos, quotes, and we will deliver custom Rubik's cube the way you like!