Visit Your Pleasant Photos More by Turning Them into 3D
Everyone has their favourite photos that are not justified well. Well, here's your chance! Get to change all your favourite 2D images in 3D prints! Here are a few points to help you pick a right 2D photo for an excellent 3D effect
Images in Portrait

Focally Pointed Images

Naturally-Lit Images
If you still find it difficult to choose a photo then contact us, our specialists will be happy to assist you.
Personalised 3D Pictures
Do you want your family photos or photos of any favourite occasion to stand out? Well, we have just the right printing technology for you then! We bring you lenticular printing process that can convert any of your photos in 2D into a stunning 3D image! While bright colours of a 2D photo get you so far as glanced at, personalised 3D picture frames will take you a step further and simply wonderstruck.
Mesmerise your friends and family by gifting them a 3D print! Entertain them with images of themselves that are animated to keep them surprised. Visit our design-editing tool to create one today!
Gifts

Special Occasions

Just for Fun!
How about a customized 3D gift for the person who means a lot to you? Personalised 3D photo prints make a dazzling accessory to any room or a charming illustration for any office. Use our 3D image design tool to create your 3D photo today!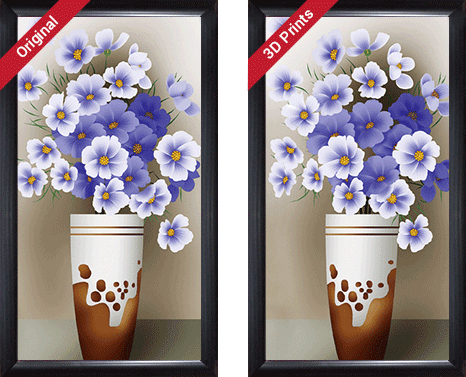 Best 3D Picture Frames To Make Your Decor Elegant
Normal photography lacks a sense of gravity and depth in general which to give a 2D image, a 3D feel. But no need to fret anymore, because we are here with lenticular photo printing that will turn any of your photos in a 3D photo print! Imagine a 3D effect on your photo of a vacation or trip or even holding your trophy would make the frame look majestic. With a durable black frame completing the look of a 3D frame, it is a perfect gift giveaway.
Features That Magnify 3D Prints
A certain peculiarities make 3D photos the best choice. Here they are
Custom 3D Photo Printing – Now Also Available For Your Home Decor
Custom 3D photo printing was previously used only for marketing ideas. Nowadays, it is truly a unique way to display your most favourite memories and to give a fresh style to your home!
It Is 3D! 75-80° Visual Angle
Make your favourite memory stand out by converting it into a 3D frame! With a viewing angle of 75-80°, your photos will seem to have come alive!
Your Favourite Photos Come To Life In Stunning 3D
Very simply, our lenticular printing technology will convert your preferred photos into 3D photo frames that will dazzle any space you position them- on the wall, or desk or a shelf.
3D Printing From Any Picture
Our large volume of production enables us to help you provide 3D printing at a very economical rate. So, we dare you to try to make your living space an optically illusive hall by printing all the 3D images you want!
Digital 3D Printing Grabs New Attention To Old Photos
Give a new life to your old photos by making them into 3D and putting a black frame on it! It will surely astonish anyone that gets a glance to these picture frame and admire the view!
Personalised 3D Photos Make Incredible Gifts
Gifting a 3D print can be the new trend that can be set for festivals and holidays. Use it for corporate gifting too to make the employees happy being a part of a good company.
Get the Best Products With Us!
Check out these great photo products from us!