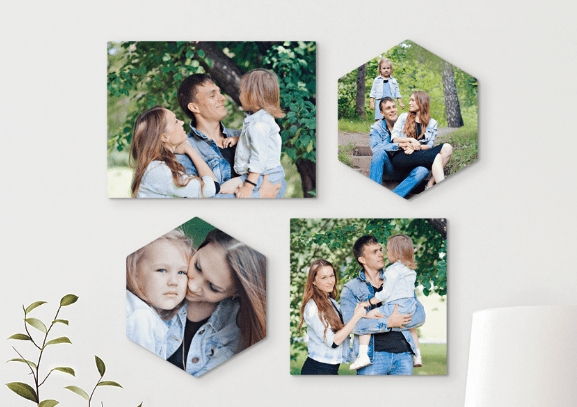 Personalised Photo Wall Tiles Details
Display your favourite picture in chic style
Material & Shapes
Material: Hardboard
Thickness: 5/6 MM
Printing Technology: UV Printing
Cutting & Finishing Technology: CNC Router
Shape: Hexagon, Rectangle, Square & Circle
Sizes:
Square: 6" x 6", 8" x 8", 12" x 12"
Rectangle: 6" x 8", 8" x 10", 12" x 18"
Circle: 6" x 6", 8" x 8", 12" x 12"
Hexagon: 6" x 7", 8" x 9", 12" x 14"
Photos on Tiles: A Creative Gift
High technology printed hardboard wall tiles
Displaying photos is quite exciting if you try some new ways every time. To display your favourite images in a new novelty chic way, get them printed on hardboard tiles. Ditch those old ways of using usual photo frames and get something that looks creative and unique in your house.
Custom photo wall tiles also make a memorable and unexpected gift for both personal and professional use. Heat sublimation technology is used for imprinting colours on the tile, and also it ensures that the print doesn't fade or wash away.
These personalised tiles are the perfect canvas for any classic display easel, as it looks beautiful, thus making it an ideal gift for any occasion. The tiles are available in different shapes like hexagon shape tiles, rectangle shape wall tiles, circle shape tiles, and square shape wall tiles. They are also perfect for a personal collection of items, tabletop, and of course, for showcasing the memories of your life.
The pictures can be printed, depending upon which room you are going to place them in. If you place them in the kitchen, fruit, vegetable or flower designs can be printed. If you are using them for your hall room, then you can print beautiful landscapes and sceneries.
You can also make a wall full of your favourite photos with family and children. Personalised wall tiles will create a keepsake and elegant home décor item you can cherish for a lifetime.